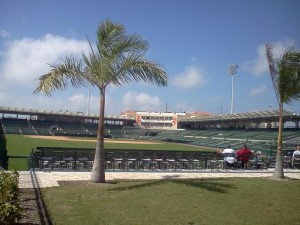 I'm getting sick and tired of all the baseball fans out there hating on the Baltimore Orioles. Since when did we become a sports society built on a foundation of hostility, name calling, and dismissive cynicism? Yes, the Orioles haven't had a winning record in 14 seasons. And so what if they still play in the uber-competitive AL East with an owner, Peter Angelos, who is more concerned with maintaining a lucrative law firm and regional sports network than putting a winning product on the field.  Certainly as a lifelong Orioles fan I have every right in the world to compose a 1000 word missive bashing the Birds for over a decade of ineptitude. But instead, I'm going to turn the other cheek and do like my brethren over at Camden Chat and give you 8 quality reasons for optimism if you're a Baltimore Orioles fan in 2012.
1 – New Uniforms/Old Logo: Murray. Ripken. Palmer. Reimold. Andino. This is Birdland!!! In all honesty, Baltimore was probably due for a minor uniform alteration and as much as I love the ornithologically correct bird, the cartoon Oriole does bring us back to a day and age when the team was one of the prohibitive favorites in the American League. Now if we can just get Brooks Robinson healthy and back manning the hot corner.
2- Weight Watchers Worked For Me: Speaking of third baseman, Mark Reynolds supposedly lost over 20 pounds this offseason and is dedicated to improving his defense which is a very good thing since he committed 31 errors last season. To be fair, in his first season with Baltimore Reynolds did compile some impressive offensive numbers leading the team with 37 HRs and 86 RBI. The free swinging slugger also cut down on his strikeouts as well. Between a slimmed down Reynolds, and rock solid SS JJ Hardy, the left side of the infield should be in reliable hands this season.
3 – Dylan Bundy and Manny Machado: Most casual baseball fans haven't heard of either of these two rising stars down on the Orioles farm but the mere mentioning of either prospect is enough to give Birdland goosebumps. Machado, a SS from Miami, has drawn comparisons to a young Alex Rodriguez and while I would certainly take ARod's production for the next decade, I could really do without the banned substances and failed Snow White parodies.
Bundy, a right handed pitcher and 4th overall pick in the 2011 draft, makes throwing a baseball 100 mph look easy. (Think Rory McIlroy hitting a driver or Meryl Streep accepting an Academy Award.) Probably too early to expect a big league call up for either player this season but the future is certainly looking brighter with these two horses in the stable.
4 – The Life Of Brian: Brian Matusz spent the entire offseason working out with Brady Anderson in SoCal. I'm ok with his strength and conditioning program so long as it didn't involve any hyperdermic needles and helps the young lefty pitcher return to his once promising form. 2011 was all but a lost year for Matusz who entered the season with an injured abdomen region and was never able to find the form that made him such a promising pitcher during the second half of 2010. Maybe a healthy, stronger Matusz can help eat up some of the innings that would have been consumed by Jeremy Guthrie had the former Orioles starter not been traded to Colorado.
5 – The United Nations of Pitching: I hope being permanently kicked out of South Korea was worth it. New GM Dan Duquette made a concerted effort to beef up the international scouting department and in the process managed to add a few veteran pitchers. Wei-Yin Chen and Tsuyoshi Wada could add some much needed depth to the starting rotation and hopefully challenge some of the younger arms like Chris Tillman, Jake Arrieta, and Zach Britton.
6 – Following the Wieters: After a gold glove winning 2010 where he hit 22 HRs and threw out 37% of potential base stealers, Matt Wieters has emerged as one of the best catchers in baseball. Buster Olney has already begun to  speculate about Wieters plans post playing career and believes the Orioles catcher has a chance to eventually emerge as a top managerial candidate a la Joe Girardi. Here's hoping for at least another decade behind the Camden Yards dish before Wieters even considers contemplating a second career.
7 – Sigh No More: It has been too long since we last saw Brian Roberts take the field for the Baltimore Orioles. Recently the former all star second baseman has shown signs of overcoming a concussion that has kept him sidelined for nearly an entire year. It wasn't long ago that Roberts was a considered a hot commodity and the cornerstone of the franchise. Now all the diminutive spark plug can do is take it one day at a time while the Orioles wait for the return of an undeniable difference maker.
8 – The AL Least?: The Orioles division can't be as strong as it has been in the recent past. The Red Sox are bound to revolt against some of the policies being implemented by new manager Bobby Valentine. The Yankees lineup is getting older and the Rays can't possibly continue their magic, even with one of the most impressive pitching rotations in baseball. If everything goes right this could be the year that Baltimore finally breaks the .500 barrier.
Remember, it's Spring Training. Optimism reigns supreme.
view from Ed Smith Stadium courtesy of @kevindayhoff