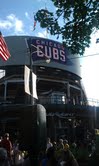 I'm worried that….
my buddy Steve didn't make it out of Murphy's in time to catch the first pitch of Cubs/Giants live from Wrigley Field. I asked him to send in a picture from the game and instead got one from the bar. Not a very promising sign. Better check in again with him a little later.
this happens a lot more than we think. Couple of former prep school buddies from Winnekta go out with every intention of making it by first pitch of the Cubs game but end up conversing and carousing until the early innings in one of the many watering holes that surround Wrigley. Although, if you have ever spent 9 innings in the bleachers you understand that it's pretty much like watching the game from a bar anyway. I once watched a Cubs/Cardinals matinee from the bleachers and after the game was over I ended up taking a 3 hour nap.  I guess that's what you get when you combine a few too many pints of Old Style and no sun screen.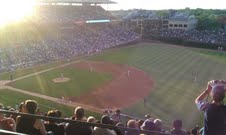 because of all the drinking that goes on in the bleachers some Cubs fans might not realize that their team lost both games of a doubleheader to the San Francisco Giants yesterday. With a record of 32-48, and a full 12 games behind the Milwaukee Brewers in the NL Central, this could end up being a very long, hot summer on the Northside. Do the Cubs even have any tradable assets? Kerry Wood? Ryan Dempster? Maybe Carlos Pena? None of these players are going to warrant a significant amount of talent in return. It looks like Cubs fans will have to wait for the offseason when the can overpay for either Prince Fielder or Albert Pujols.
when Steve did finally get to his seats, and judging by the look of the setting sun I'll guess bottom of the 2nd inning, he realized that the adult beverages were a lot cheaper in the bar outside the stadium.