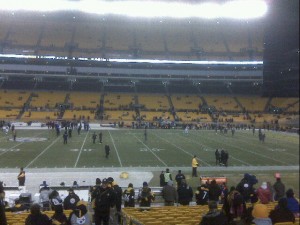 PITTSBURGH (-14.5) over Carolina: If you're a Panthers fan, do you want your team to lose the next two weeks to ensure yourselves the #1 pick and Andrew Luck in next year's NFL draft?
Dallas (-6.5) over ARIZONA: I had no idea that John Skelton, QB for the Cardinals, went to Fordham. I had no idea Fordham even had a football program.
MIAMI (-3.5) over Detroit: It feels like the Dolphins have played at least 15 home games this year, and lost every single one of them.
Minnesota (+14.5) over PHILADELPHIA: I'm going with rookie Joe Webb on the road. I'M GOING WITH ROOKIE JOE WEBB ON THE ROAD.
JACKSONVILLE (-7) over Washington: Reason No. 48 that you know your career as a starting QB in the NFL is over… your head coach believes that Rex Grossman and John Beck give the team a better chance at winning than you do.
ST. LOUIS (-2.5) over San Francisco: I have no problem with a 7-9 team making the playoffs.  I wish the same were true in the MLB. Then my Orioles may finally have a chance of playing October baseball again.
TAMPA BAY (-6) over Seattle: Every year, there's that one team you just can't figure out.  The Seahawks are that team for me this season. I swear I have picked each of their games incorrectly this year. Sorry Josh Freeman, looks like you won't be covering the spread this game.
BUFFALO (+8) over New England: If Buffalo were in the NFC West this year, what would their record have been? 10-6, 9-7, or 8-8?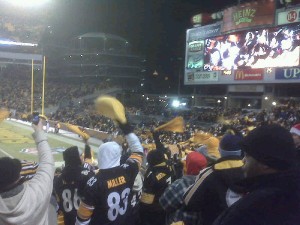 New York Jets (+1) over CHICAGO: Top to bottom, Jets are a better football team.  Word to the wise Steve Weatherford, don't punt the ball to Devin Hester.
Baltimore (-3.5) over CLEVELAND: The NFC North will go down to week 17.
KANSAS CITY (-6) over Tennessee: If the Chiefs make the playoffs, are they underdogs at home to either the Ravens/Steelers/Jets?
Indianapolis (-3) over OAKLAND: Let me just say, I feel really bad for Austin Collie. Dude probably shouldn't have been playing last week anyway.
Houston (-2.5) over DENVER: Allow me to be the 1,000,000,001 sports fan to way in on the Tim Tebow regime in Denver.  Inspirational leader, hard worker who can't possibly make all the throws he needs to make himself a successful NFL quarterback.
New York Giants (+3) over GREEN BAY: Sunday's forecast for Aaron Rodgers…cloudy with a chance of double vision.
San Diego (-7.5) over CINCINNATI: I no longer trust Carson Palmer with the back door cover.
ATLANTA (-2.5) over New Orleans: Atlanta > Baltimore + Baltimore > New Orleans = Atlanta > New Orleans
Last week: 7-9
Views courtesy of @jenny1027 and @RyanMcLane1