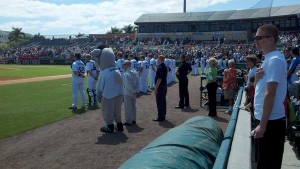 2011 Florida Marlins
NFL Equivalent – Minnesota Vikings: This comparison would work perfectly if the Minnesota taxpayers would finally pony up and agree to finance a new stadium.  As it is, both of these teams currently play in antiquated, potentially-hazardous football stadiums.  South Florida's daily late afternoon rain squalls have nothing on Minneapolis's roof collapses and falling debris.  The Marlins will finally be moving into a new building in 2012, right smack dab in the middle of Miami's Little Havana neighborhood.  Both the Marlins and Vikings are young, with very exciting. combustible players where it matters most.
Google Search: Gone is franchise leader in home runs, 2B Dan Uggla, who was traded to division rival Atlanta after last season.  In his place, the Marlins have brought in 2010 All-Star 2B Omar Infante.  Slotted into the third slot in the rotation is SP Javier Vasquez, who has performed in every city he's played that doesn't rhyme with Blue Pork.  C John Buck will call the pitches for a very promising young staff, who will rely on his veteran leadership to keep an even keel.
Famous Movie Quote: I am a star. I'm a star, I'm a star, I'm a star. I am a big, bright, shining star. That's right. –Dirk Diggler, Boogie Nights.
When a perennial all-star is left to put up huge numbers in anonymity, it falls to him to remind himself that he really is the goods.  Standing in front of a mirror, Dirk Diggler, an up-and-comer in the adult film business, affirms that he has what it takes.  If his fan base and the media have already written him off, Hanley Ramirez needs to enter this season with the self-confidence required of someone who can carry a franchise.  You ARE a star, Hanley!  Ramirez will be looking to his bat to mend the strained relationships that developed with then-manager Fredi Gonzalez and Marlin fans.  Young players OF Mike Stanton, OF Logan Morrison, and 1B Gaby Sanchez will take their cues from Ramirez.  As these four go, so will go the Fish.  SP Josh Johnson will continue to be one of the best young arms in the National League, and will challenge the 20-win threshold yet again. 2011 prediction: 82-80; 3rd Place NL East