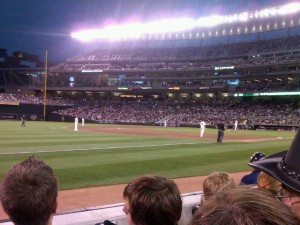 The Baltimore Orioles are headed nowhere fast and it has finally come to a point in the season where the team must consider making a few drastic changes in order to satisfy the desires of their fans and give promise to a brighter tomorrow. And while most teams in MLB will use September to call up their top prospects from the minor league, the Orioles may want to think about charting an entirely different course. Attendance at Camden Yards is down and will remain low even if the Blake Davis/Josh Bell platoon at 3B produces results. No, what Baltimore needs to do is ask the actors who played famous baseball players in the movies to reprise their roles for the Orioles over the final month of the season. This got me thinking, who would I rather have on the field: current Oriole or famous Hollywood character.
SP – Jeremy Guthrie or Nuke Laloosh from Bull Durham – Guthrie is a relative beacon of consistency for a historically overmatched Orioles pitching staff while Laloosh is a mercurial talent whose unorthodox delivery will not translate well to the big leagues unless he's accompanied by trusted catcher Crash Davis. Advantage: Guthrie
Catcher: Matt Wieters or Jake Taylor from Major League – Love the savvy veteran leadership of Taylor, and remember, the guy was playing on two flat tires when he beat out that game winning bunt single against the Yankees. Wieters is certainly no "Mauer with power" but his defense has been outstanding all year. Advantage: Wieters
First Base: Chris Davis or Jack Elliot from Mr. Baseball – Davis was brought to Baltimore with the promise of adding some punch to a lineup in desperate need of a power hitting first baseman but has ended up convalescing with Dr. Lewis Yocum while they attempt to figure out the best way to reapir his injured shoulder. All Jack Elliot did was pave the way for other Americans like Karl "Tuffy" Rhodes and Bobby Valentine, to star in the Japanese baseball league . Advantage: Elliot
Second Base: Robert Andino or Jose from Bull Durham – Well, seeing as how Jose played nearly an entire season for the Bulls with a cursed glove, it'll be hard not to go with Andino even though he remains a far cry from a healthy Brian Roberts. Speaking of BRob, what are the chances we ever see him again? Next season maybe? Advantage: Andino
Shortstop: JJ Hardy or Tanner from The Bad News Bears – As far as I can tell, JJ Hardy is not a misogynistic, racist which is much more than can be said for Tanner the pint sized blonde. In fairness, he does stick up for teammate Lupus in that critical scene where a couple of Yankees players start bullying the smallest kid in the playground. Sound familiar? Advantage: Hardy
Third Base: Mark Reynolds or Roger Dorn from Major League: Two very similar defensive players who have each perfected the ole defensive maneuver. Unfortunately, I have yet to see Orioles manager Buck Showalter come out and urinate on Reynolds contract. Adding to this is the fact that Dorn looks like a terrible hitter, not even close to matching the prodigeous pwer of Reynolds. Advantage: Reynolds
OF: Nolan Reimold or Mae Mordabito from A League of Their Own: "All the Way" Mae had plenty of speed and defense, two things alluding Reimold. With Mae we're also talking Madonna in her prime, which for younger fans under the age of 25 must seem completely implausible seeing as how today she looks like a wax statue from Madame Tussauds. Advantage: Mordabito
OF: Adam Jones or Kelly Leak from The Bad News Bears: Kelly Leak had all the talent in the world but unfortunately we are also talking about a 12 year old chain smoker who probably won't exist in the free world much past the 8th grade. Adam Jones has a ton of natural ability too, and if the O's don't start winning soon, he's going to want to catch the first flight out of here and return to the West Coast. Advantage: Jones
OF: Nick Markakis or Roy Hobbs from The Natural: Has anyone ever taken the time to extrapolate Hobbs stats from his one year with the New York Knights? Even though he didn't play a full season – due to various setbacks including a silver bullet and Wilford Brimley – I'm still guessing he ended up hitting over 40 home runs with 120 RBI. If Markakis ever hits a ball through a Warehouse window only then will we have a debate. Advantage: Hobbs
Total: Current Orioles 6 Hollywood 3. O's win! O's win!