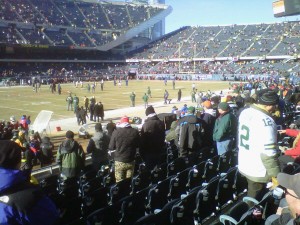 Green Bay Packers 21 Chicago Bears 14: My favorite byproduct of the whole Jay Cutler "phantom" knee injury thing was all the war stories that fans and former players felt that they just had to share.  For instance, there was this classic reaction from Maurice Jones-Drew followed by a scathing assessment from former NFL lineman Mark Schlereth.
But, by far, my favorite reactions came from friends and family. For example, my brother in law: "You (Cutler) gotta play through the injury. I had terrible shin splints last year and all I did was get myself a new pair of shoes".
From my friend J: "MCL's are overrated. They don't even surgically repair them anymore. You can play through the pain as long as you run straight ahead and avoid making any sudden movements".
My favorite reaction came from my Dad: "You know back in my day, we didn't even use to get water breaks.  Coaches would come around and give us salt tablets that were thought to keep us hydrated. The only reason I stopped playing football was because I couldn't find a comfortable pair of contact lenses".
So there you have it.  The votes have been tallied. Jay Cutler should have finished the game for the Chicago Bears. Now it could turn out that he will need major knee surgery this offseason, which I hope is not the case.  Regardless, it was really fascinating to watch the public turn on Cutler so quickly. Which reminds me, did you catch him trying to stay loose on the exercise bike? That's exactly what I look like when my somebody asks me to do something that I have no interest in doing. Cutler didn't exactly look like someone who was dying to get back in the game.  In this case, perception is everything.
view of Soldier Field courtesy of @reschcenter
Pittsburgh Steelers 24 New York Jets 19: Did you catch the Rex Ryan headset toss at the end of the game? He looked just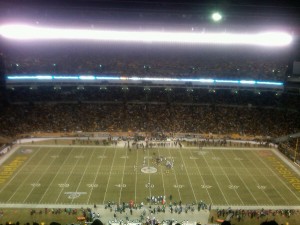 like Clark Griswold when the 25000 imported Italian twinkle lights wouldn't work properly.
I gotta tell you, and as I Patriots fan I can't believe I'm saying this, I kind of like Rex Ryan's confidence during the post game press conference.  Sure the Jets just lost the AFC Championship game for the second year in a row but, to his credit, he stood up to the podium and boldly predicted that his team was going to make it all the way to the Super Bowl next year.  Jets fans probably won't take much solace in his pronouncement this morning but still, the guy doesn't waiver from his message.
Now we prepare for two straight weeks of hypotheticals. If Ben Roethlisberger wins his third Super Bowl at the age of 28 is he as good a QB as Tom Brady? If Aaron Rodgers leads the Packers to victory in Dallas do the fine folks of Green Bay finally forget about the man named Favre? If Jay Cutler is on crutches will he still be allowed to crash the MTV Super Bowl bash?
Lots to think about and with two weeks to go until Super Bowl XLV, plenty of time to figure it all out.