With the loss by my New England Patriots, this playoff recap was about as tough to write as any previous post. Alas, I'm a professional and I know most of you kind souls out there don't care for a single second that Mark Sanchez will be taking his A Night At The Roxbury routine to Pittsburgh next weekend.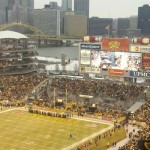 Pittsburgh Steelers 31 Baltimore Ravens 24: Catch the ball Housh!!!! Catch the ball Anquan!!! Help your young quarterback out. Granted Joe Flacco wasn't playing all that well either but those drops by his two best receivers went a long way towards determining the final outcome of the game.  Give credit to Ben Roethlisberger and the Pittsburgh Steelers who just continue to find ways to win playoff games. Are you aware that Roethlisberger is two wins a way from his 3rd Super Bowl victory?  Personal life aside, guy is a beast of a QB who usually comes through in the clutch. (View of Heinz Field courtesy of @trixietraci)
Green Bay Packers 48 Atlanta Falcons 21: I think it's safe to say that Aaron Rodgers is playing himself on to a Wheaties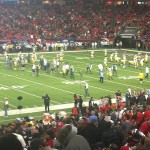 box. That was until the folks over at ProFootballTalk mentioned some pretty damning video regarding Rodgers snubbing a cancer patient looking for an autograph.  Not the most inspiring footage.  Luckily, Clay Matthews was there to save the the day for the Packers, but for Rodgers, the damage may already be done.  As a professional athlete, airports must be a claustrophobic nightmare with pimple faced face fans climbing the walls just to catch a glimpse of their gridiron heroes.  But, as PFT points out, this was not your typical fan and Aaron Rodgers should have had the decency to take a quick moment to sign an autograph for a person who was clearly battling something much more devastating than a Cover 2 defense. (View of Georgia Dome courtesy of @Brian_Chrispigna)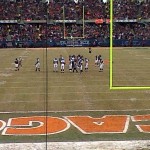 Chicago Bears 35 Seattle Seahawks 24: So much for the momentum. In the immortal words of Denny Green, the Seahawks "are who we thought they were". Not much suspense in this one, except for those gamblers who took Seattle at +10 and were hoping Pete Carroll went for the 2 point conversion on that last TD. The future isn't all that promising for the Hawks fans who are probably hoping for a disastrous 2011 campaign if only to have a chance at drafting Andrew Luck. The Bears, and their fans, have got to relish being 3 point underdogs at home against the Packers in the NFC Championship game.
New York Jets 28 New England Patriots 21: And it wasn't even that close.  As a Patriot fan, what can I say?  Rex Ryan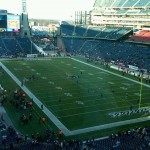 outcoached Bill Belichick.  Mark Sanchez outplayed Tom Brady. Done and done. The team of destiny rolls on to the AFC Championship Game. I do wonder what sort of sophomoric barb the Jets will use to get under the skin of their opponent this week. Will they emasculate Troy Polamalu for having long hair? Do they say something derogatory about all the middle class iron workers who populate the Heinz Field stands? Or dare they go as far as to challenge the authority of Pittsburgh head coach Darnell Jefferson? One thing's for certain, the New York media market is going to be alive with energy this week and I am going to do my best to maintain complete radio silence. (View of Gillette Stadium courtesy of @RyanFox25Sports)