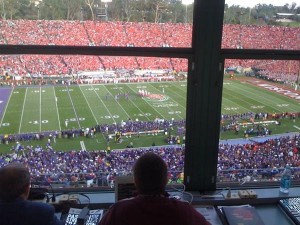 A couple of quick things before we get into the Week 17 picks. First, why didn't Wisconsin run the ball on that 2 point conversion?  The undersized/athletic TCU defense could not stop the mammoth Badger offensive line all game. Second, my NFL picks have been getting progressively worse since we started this venture back in Week 11.  Maybe I can't handle the pressure of public expectations.  Whatever the case, view these Week 17 picks with caution.
view of Rose Bowl Game courtesy of @TheTeditorial
KANSAS CITY (-3.5) over Oakland: "Tailgating and good BBQ.  That's what Arrowhead Stadium is known for!!!"
NEW ENGLAND (-4) over Miami: I understand the Pats have already locked up the #1 seed. But, what exactly are the Dolphins playing for this week?
INDIANAPOLIS (-9.5) over Tennessee: I could watch the video of Peyton Manning sliding on the 2 yard line over and over and over again.  Perhaps the dorkiest thing he has every done on a football field.
HOUSTON (-3) over Jacksonville: I think I would rather watch a replay of the Beef O'Brady's Bowl than any game featuring Trent Edwards (as the entire city of Buffalo gives a collective nod of the head).
Pittsburgh (-5.5) over CLEVELAND: When Gov. Ed Rendell caught word of the NHL moving the Winter Classic to a later hour he compared Gary Bettman to Julian Assange.
BALTIMORE (-9.5) over Cincinnati: Ravens are poised to ruin my 2011 playoff experience.
Minnesota (+3) over DETROIT: The abandoned buildings of Detroit.  Apocalypse Now.
NY Giants (-4) over WASHINGTON: This is the only game Fox is giving the NYC metro area.  I would need Direct TV in order to watch the Pack/Bears game. Yuck.
GREEN BAY (-10) over Chicago: Once the Packers win and clinch a playoff spot, I'm predicting that nearly 1/2 of all football "experts" will pick them to reach the Superbowl.
Dallas (+6.5) over PHILADELPHIA: Every American is entitled to their own opinion. However, Tucker Carlson you're embarrassing yourself. Everyone knows that public stonings are no longer permitted in the United States.
NY JETS (-1.5) over Buffalo: Lost in all the Rex Ryan foot fetish craze is an undeniably profitable marketing opportunity.
Carolina (+14.5) over ATLANTA: For pride Panthers. For pride!
Tampa Bay (+7.5) over NEW ORLEANS: Bucs miss playoffs by a game and make a huge statement in the process.
Arizona (+6) over SAN FRANCISCO: Count me down as one of the many people who will miss the highly erratic, never dull head coaching career of Mike Singletary.
DENVER (+3.5) over San Diego: Tebow mic'd up vs Texans…pretty sweet.
St. Louis (-3) over SEATTLE: Charlie Whitehurst looks like a strange combination of Koy Detmer and Jesus Christ. Total points: 42
Last week: 7-9