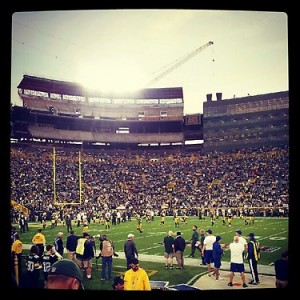 After missing the deadline for week 1, I'm now ready to start up another season of NFL picks. As usual, if your looking for deep insight and meticulous handicapping, this is not your column.
Week 2
Chicago (+5.5) over GREEN BAY
Of course Jay Cutler got pissed when he had to burn a timeout at the goal line because the home Chicago crowd being too loud. This behavior is not the sort of long term solution to help promote loyalty and support from the Windy City faithful. At this point we shouldn't be expecting anything less from Mr. Sourpuss. (Although, today people are bringing up the fair point that when Cutler reams out an offense lineman he's acting childish but when Tom Brady spouts off at his o-coordinator he's being a competitor. Total double standard?)
Tampa Bay (+7.5) over NY GIANTS
Eli Manning and the Giants have a history of winning these games against inferior opponents by 3 points. Factor in Eric LeGrand coming out for the coin toss and you have the recipe for an early season barnburner.
NEW ENGLAND (-13.5) over Arizona
I bet the Patriots wish they had both Dont'a Hightower and Chandler Jones in uniform last February 5th.
Minnesota (-1.5) over INDIANAPOLIS
How in the name of popular mechanics was Adrian Peterson able to come back and perform so well only 9 months after tearing his ACL to smithereens?
New Orleans (-2.5) over CAROLINA
Sure it's only week 2 but with the high-powered Falcons and rejuvenated Bucs, this could be the make or break game that determines both teams chances in the NFC South.
Chiefs (+3.5) over BILLS
The only excuse for why Ryan Fitzpatrick performed so poorly week 1 vs Jets is that he was distracted by the emerging cheating scandal at Harvard. If Tarvaris Jackson ever gets a chance to replace Fitzy someone should look into the current state of the political science dept at Alabama State.
Baltimore (+2.5) over PHILADELPHIA
The Ravens looked really good in their week 1 disposing of the Bengals while the Eagles got off to their traditional lackluster start agains the really woeful Cleveland Browns. Not sure why the Iggles are even favored in this game other than for the fact that it is in Philadelphia and rumor has it that Baltimore fans will be asked to show some sort of photo ID in order to enter "the Linc".
Oakland (-2.5) over MIAMI
How in the world are the Raiders only favored by 2.5? Were Vegas sportsbooks even watching Ryan Tannehill against the Texans? A few more performances like that and the Dolphins are going to move him back to WR.
CINCINNATI (-9.5) over Cleveland
The Browns are not a fun team to watch play football even when Trent Richardson lowers the boom on opposing safeties, knocking their helmet off in the process.
Houston (-7.5) over JACKSONVILLE
I once had a football coach who told us that the largest room in the world is the room for improvement. I don't know what made me think of this other than I have a hard time believing Blaine Gabbert is even a serviceable NFL quarterback.
SEATTLE (+2.5) over DALLAS
Sonics fans will be super energized for this game now that there is a definite possibility of the NBA returning to Puget Sound.
Washington (-2.5) over ST. LOUIS
Besides Sam Bradford, Chris Long, and James Laurinaitas, I can't name a single player on the Rams. Henry Ellard? Flipper Anderson? Merlin Olson?
NY Jets (+6.5) over PITTSBURGH
I am a subscriber to the theory that this Steelers defense is past its prime. I do however hope this has no bearing on the Pittsburgh Pirates playoff chances. Imagine a postseason that includes both the Baltimore Orioles and Pirates? Your move Kansas City.
SAN DIEGO (-4.5) over Tennessee
I didn't watch much of Monday night's Chargers/Raiders game. Check that. I didn't watch ANY of the Chargers/Raiders game. Can't imagine I missed all that much except for Berman bloviating about Philip "A Rivers Run Through It".
SAN FRANCISCO (-6.5) over Detroit
Come for the football, stay for the hardo post game handshake.
DENVER (+2.5) over Atlanta
I still can't get use to seeing Peyton Manning in a Denver Broncos uniform. He seems so out of place. Like Joe Biden in a diner.
view from Lambeau Field courtesy of @shawnie_rae