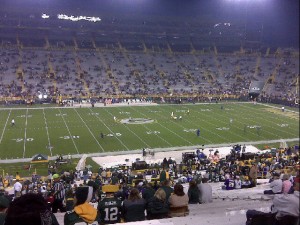 Last night, Brett Favre played like a 41 year old man.  His 3 interecpetions, one returned for a GB touchdown, were the main reason the Vikings lost to the Packers 28-24. In classic Favre fashion, he gave his team a chance to win the game in its final moments, which included an apparent touchdown pass to Percy Harvin that would later be overturned.
So where do the Vikings go from here?  Favre appeared injured, perhaps a relapse of the ankle injury that has plagued him for years, and the Minnesota schedule doesn't get an easier with an upcoming trip to the 5-1 Patriots on Halloween.  Can they still win the NFC North or will Tarvaris Jackson be their starting QB by seasons end?
For anyone who's ever been to Lambeau Field, is the entire stadium made up of bleachers or are there individual seats as well?