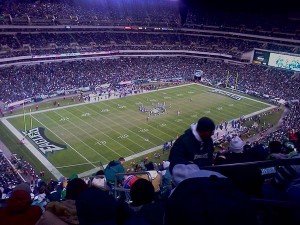 When people go on and on about climate change, melting ice caps, and displaced polar bears, they always seems to focus on the doom and gloom that goes along with the end of human existence but fail to focus on all the good stuff like more snow days for kids, and tons of fresh powder at the New England ski resorts. So while I could be upset about the fact that the power company has yet to respond to my multiple phone calls indicating a downed line laying across the driveway, instead I'll choose to focus on how great it was that the electricity stayed on long enough Saturday night into Sunday morning to watch the end of the USC/Stanford* football game. In the future, I'll be fine with "evolving" weather patterns so long as it doesn't interfere with my sports consumption.
*A few observations about this 3OT instant classic in the Pac12. 1) Some people are saying that Andrew Luck did not improve his draft stock with his performance against the Trojans. But when you were already the presumed top pick in the 2012 draft, isn't it impossible to improve your position? 2) Matt Barkley is going to be a very good NFL quarterback someday. 3) USC defensive coordinator Monte Kiffin looks like the kind of guy who enjoys wearing boat shoes. I can totally see him sitting up in the coaches booth wearing a nice new pair of Sperry's just wishing he were on a boat off the Florida Keys fishing for blue marlin.
Quick Snaps
Rams 31 Saints 21 – Just look what throwback uniforms will do for you. St. Louis decides to don the old school Eric Dickerson yellow and royal blues and ends up putting an absolute hurting on Drew Brees, Sean Payton, and the rest of the New Orleans Saints. I would also like to thank Steven Jackson for single handedly ending any chance I had at winning my weekly fantasy matchup. Finally, a quick congrats to David Freese, Albert Pujols, Tony La Russa, and all the St. Louis Cardinals. Game 6 of the 2011 World Series was one of the most memorable baseball games in recent memory, perhaps even surpassing the drama of 1986 with Mookie and Buckner.
Ravens 30 Cardinals 27 – I wasn't able to watch the 1pm games, but tried to follow along on my phone as best I could. Needless to say, when Baltimore trailed Arizona by a score of 24-3 I figured it spelled the end of my 2011 gambling season. Luckily, Ray Rice decided to place the team on his broad shoulders and preserved my spot in our weekly suicide pool.
Steelers 25 Patriots 17 – My knee jerk reaction is that New England is months, if not 5 defensive backs, away from being able to compete for a Super Bowl. The Patriots haven't had a genuine pass rusher since Willie McGinest and BB's "bend but not break" defensive scheme allows for a ton of yards. You can't outscore your opponent when don't control the time of possession.
Lions 45 Broncos 10 – For the record, I still believe "tebowing" is here to stay. Also, do you think there is silent majority within the Denver organization that secretly wants Tim Tebow to fail? Couldn't you see John Elway just hoping the Broncos are bad enough this season to be in position to draft Luck, Barkley, or Landry Jones?