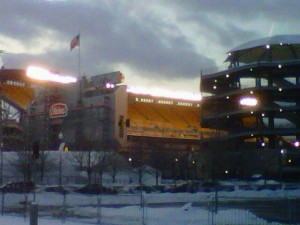 CHICAGO (+3.5) over Green Bay: My cousin Bert is a Chicago native, currently enjoying his junior year at the University of Wisconsin. For Sunday's NFC Championship game, he has chosen to return home to Chicago. Reason being, Madison, between all of the Leinenkugel and cheese curds, is going to be a very difficult place for any Bears fan to watch the game. My question to Bert, aren't there an equal number of Chicago and Green Bay fans on the UDub campus? Gotta be close right? Madison is full of "flatlanders" and "coasties". In fact, if you were to take an informal poll, which NFL jersey is most represented on the Wisconsin campus: Aaron Rodgers, Brian Urlacher, or Ron Dayne?
I like the Bears in this game because I respect the way they went out and played the Packers hard in Week 17, even after they had already locked up the #2 seed and a first round bye. Of course, Aaron Rodgers is currently playing quarterback like Neo "knowing" Kung Fu, so there's a pretty good chance the Packers win by double digits.
PITTSBURGH (-3.5) over NY Jets: It has been awfully quiet in Florham Park, NJ this week.  I don't care how much they "respect" the Steelers, I think the Jets are a better, albeit more unbearable, football team when they talk.  I have no statistical evidence to support this claim but it seems to me that their roster – Bart Scott, Antonio Cromartie, Rex Ryan – is full of players/coaches that feed off media attention.
Speaking of unnecessary media attention, if I have to hear one more time about how the Empire State Building is currently lit up in green and white lights to show support for the Jets I am going to throw up in my mouth.  We get it, New York is behind their football team.  Even more infuriating, did you hear about the story where the Jets charter plane was given permission to "fly by" the Empire State Building on their return trip home from Foxboro last Sunday? How is this legal? Mayor Bloomberg, when you are finished digging out Astoria, Queens from all that snow we had in late December, how about you investigate the flight controllers who allowed the Jets plane to buzz Manhattan? (Note: I'm not still bitter about the Patriots losing last weekend. Not bothered at all.)