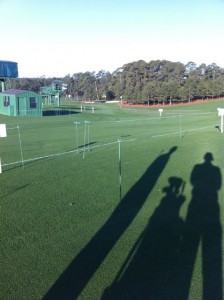 In honor of The Masters, myself and VMS contributor Dave are taking you through Augusta National, hole by hole, playing the course as if we were part of the field. Part III includes holes 13-18.
Jon: So, while we wait to tee off, who's going to win the 2011 Masters anyway? My money is on either Luke Donald or Phil Mickelson.
Dave: I got Dustin Johnson , Rory McIlroy, and Tiger Woods. Basically all the favorites.
No. 13 "Azalea" Par 5 , 510 yards
Jon: End of Amen Corner, my prayers go unanswered after a lost opportunity to reach the green in two once I shank my drive towards Atlanta. I'll take a solid 9.
Dave: Can I just tee off from the pine straw on this one?  So much was made about Phil's amazing 2nd last year, but not enough is made of him pushing the eagle past the hole.  I'm on in 6 here (after 5 from the straw).  And, for good measure, I make my putt for the double.  Because that's the difference between Phil and me.  And that I read the greens in Braille.
Jon: Funny, I totally forgot that Phil missed that eagle putt. Give him a break though, last year was a win for the family.
Dave: Great win for Phil and the whole family.  Now, if only they could find a proper tailor for daddy.
Jon: That was pretty low mister and way too easy. Moving on to 14. your honor your honor.
No. 14 "Chinese Fir" Par 4, 440 yards
Dave: "The primary defense on this bunkerless par four is a terraced putting surface that drops significantly from left to right."  This is how the Masters folks describe Chinese Fir.  Hahahaha!  More putts than approach shots here, which wouldn't be scarce.  My honor is besmirched.  9.
Jon: I get the same feeling reading the hole descriptions from The Masters website that I do reading the safety procedures on a plane. In both cases, if and when things go wrong I am going to panic. No sand no problem. Give me a 6. Ready to dance with the Firethorn?
No. 15 "Firethorn" Par 5, 530 yards
Dave: These holes either sound like painful rashes, or old-timey names for debutantes. Have at it.
Jon: Well, I have dreams about reaching this green in two, giving myself a chance to putt for eagle as the gallery at 16 looks on. But my eyes are definitely bigger than my stomach and I'll have to live with the disappointment of another errant tee shot and water hazard to boot. Give me an 8.
Dave: I, too, have packed my trucks.  Unavoidable, I'm afraid.  When I hear "reachable Par 5", I'm thinking in 5.  In this case, though, I'm on in 7, after 2 well-intentioned hybrids into the pond.  (Still haven't figured out how to line up that club yet.  It's like it was designed by aliens.)  The green seems "straight forward".  Three putts, and I've got my first double digit hole.  10.
Jon: No way you go 14 holes before a double digit score. You're just not that good a golfer.
Dave: I don't tell you how to design your fantasies, do I? Next hole is both a rash AND a chaste debutante: Redbud.  Go!
No. 16 "Redbud" Par 3, 170 yards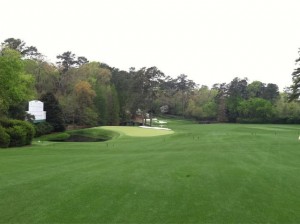 Jon: I love Verne Lundquist sooo much. I would pay him gobs of money to announce me washing the dishes. Believe it or not, I'm putting for birdie on this one. And, after a close miss, I tap in for par.
Dave: All this water here scares me.  I try to play it safe and aim for the left of the green.  Too bad I scull a screamer WAY left.  It does clear the drink, though, and I'm pitching from the Redbuds– which happen to be beautiful up close.  I'm on in 4, with a nice two-putt up the hill.  No hazards and no 3-putts.  My round is made here.  Now where is that drink girl?
Jon: You mean drink boy right? Did you forgot that this is Augusta and that the lady folk are frowned upon in these parts? Show us the way around 17.
No. 17 "Nandina" Par 4, 440 yards
Dave: Before we tuck into Nandina (rare exotic disease AND the given name of my Ukrainian maternal great-grandmother), a little history for you. Now, to my dear Nandina. This one is framed around the majestic Eisenhower Tree.  To avoid the imposing greenside bunkers, I– unwisely– choose to play up the left side.  In and out of my forest, I've got a clear shot to the front of the green from about 100.  I hit a wedge too fat, and I'm in the right bunker anyway.  From there, it's a little more misery: out in 3, 3 more putts.  Another 10. This course is a lot easier on X-Box
Jon: I am so underwhelmed by 17. Feels out of place between the majesty of 16 and grace of 18. But, I'm sure golf historians would tell me that many a Masters has been won or lost on 17. Blah blah blah blah blah. Give me a 7 and bring on the grace!
No. 18 "Holly" Par 4, 465 yards
Jon: Before we tee of we should take a moment to thank Billy Payne and all other members for allowing us to write about our totally fictional round at Augusta. Your generosity knows no bounds.
Dave: Nor, I imagine, does the nuanced sense of humor of the entire Masters contingent.  Thanks.
Jon: I finish 18 with a sand wedge and a snowman. As I exit the green, Elin Nordegren is there to congratulate me on a well played round. Eat your heart out Tiger! (Just kidding. Can we still be friends?)
Dave: I just took the "virtual flyover" on the Masters website.  I can't believe how narrow the landing is here.  Seems impossible, even for the pros.  I guess they really have to earn it Again, I can't hit driver here (slice), so I'm spitting into the wind with my hybrid up the hill.  "Near in 4", on in 6, down in 9.  Which happens to be one third of the number of different financial services companies who will advertise during Masters Sunday.  Depressing for those of us whose finances aren't quite eligible for servicing.
Jon: Its The Masters. Everyone is eligible for servicing!!
———————
Final Scores: Jon 120 Dave 139
views from Augusta National courtesy of @RickieFowlerPGA and @bubbawatson