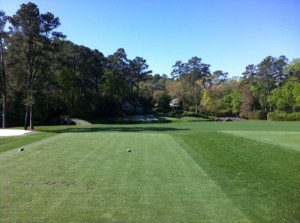 In honor of the Masters, myself and VMS contributor Dave are taking you through Augusta National, hole by hole, playing the course as if we were part of the field. Part II includes holes 7-12. Look for Part I here and Part III later today or tomorrow morning.
Hole No. 7 "Pampas" Par 4, 450 yards
Jon: What exactly is a Pampas?
Dave: I believe Pampas was an old wooden ship used during Civil War times.
Jon: Ok, good, so you have no idea either. I really am looking forward to Jim Nantz saying "and Tiger Woods climbs the tee box and reaches Pampas".  Anyway, tight fairway means I'm playing shot number two from under a large pine. Knock down 3 iron puts me in front bunker. At this point, feeling a little better about my sand game so out in one but putting remains and issue. I'll take a 6.
Dave: I don't think people really understand how bad my slice is. Would you say that I lose about 150 yards of distance with my driver? In any case, I'm giving myself a 6 here as well but mostly because the pain/fear of playing Augusta has been dulled by my 4th cocktail of the afternoon.
Hole No. 8 "Yellow Jasmine" Par 5, 570 yards
Jon: I always try to hit my drive too hard on Par 5's. Yellow Jasmine would be no different. The good news, there aren't any bunkers surrounding the green. The bad news, you're still putting on what is the equivalent of a sheet of ice tilted at a 45 degree angle. Give me a 9.
Dave: See your problem is that you haven't yet realized that you aren't any good and won't be any good until you can play about 4 rounds a golf a week which is never going to happen for you because you will never be able to retire. Double par me!!!
Hole No. 9 "Carolina Cherry" Par 4, 460 yards
Jon: Carolina Cherry sounds like the perfect name for a soft drink. I'm not much for soda but I would definitely love to wash down a big old pulled pork sandwich w/ a frosty mug of Carolina Cherry.
Dave: I presume they would have Diet Carolina Cherry as well then.
Jon: I assume so yes. Back to the course, I'll make the turn with a 5 putt and a 10. Total score through 9 holes: 54.
Dave: No way you shoot a 54 on the front 9. Be realistic, we're talking about Augusta National. I'll give myself an 8 here but only because I get lucky and hit the stick with a sand wedge from about 10 yards off the green. Total score through 9 holes: 63
Hole No. 10 "Camellia" Par 4, 495 yards
Jon: You once dated a Camellia right Dave?
Dave: Correct, and I don't really want to talk about it. Ironically, one of her problems with my lifestyle was that I played too much golf. Go figure. Old wounds never really completely heal. I'll take my 9 and a golf bag full of memories on to the next hole.
Jon: So sad. Well if it makes any difference I didn't really care for Camellia, you ex not the hole, that much either. The pimento cheese sandwich and large Carolina Cherry have me reinvigorated!! Mark me down for a miraculous 5.
Hole No. 11 "White Dogwood" Par 4, 505 yards
Jon: And this is where the wheels really start to come off. I now recognize the holes we are playing after years of watching the back 9 at Augusta on CBS. My second shot travels somewhere near No. 13 tee box while my third goes strait into the drink. Drop four, hit five back over the green, 4 putt for eight. I now have no confidence heading through the rest of Amen Corner.
Dave: I don't even finish the hole. Can we start saying double par is the max we can shoot on any given hole? No, ok fine, then better give me another 10.
Hole No. 12 "Golden Bell" Par 3, 155 yards
Jon: I'm so freaked out by Rae's Creek that I end up totally blocking out a 9 iron towards 11 green. Of course, I assumed that our round was played without any other groups on the course thus avoiding any awkward conversation with Hunter Mahan who was attempting to line up his birdie putt on 11 before I "buzzed the tower". Drop 2, hit 3 into Rae's Creek. Now the frustration mounts. Forget about how fortunate we are to be playing Augusta and instead go into the golf bag for a Bud Light which happens to be left over from the previous summer. Anything to take the edge off. Give me an 8 and a whole lot of sorrow.
Dave: My nerves no longer exist thanks to the prescription meds and 2 Mint Juleps at the turn. I'm actually feeling good about this hole. 6 with a 4 putt. And by the way, images in your rear view mirror are closer than they appear.
Jon: Believe me I am aware.
————————-
Score through 12 holes: Jon 79 Dave 88