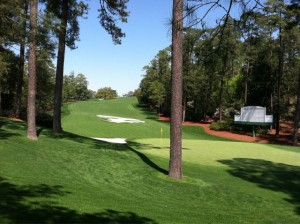 In honor of the Masters, myself and VMS contributor Dave are taking you through Augusta National, hole by hole, playing the course as if we were in the field. Part I includes holes 1-6. Look for parts II and III later today and tomorrow morning.
Hole No. 1 "Tea Olive" Par 4, 445 yards
Jon: I'll give myself a 6. Always play loose on the first hole.
Dave: Make able 8 for me, although the dogleg right does play to my enormous slice.  On the green in 4 with a masterful 4 putt to top it all off.
Jon: Yeah, you really are an awful putter. Your problem is that you don't take enough time reading the greens. That and you start walking after the golf ball before you even finish your swing.
Hole No. 2 "Pink Dogwood" Par 5 575 yards
Jon:  I'm giving myself a 8. Booming drive followed by a 3 wood of the deck that kills about 55 worms as it travels 25 yards into a fairway bunker. Two shots out of the bunker before flying the green with my 5th shot. 3 putts ought to get me home from there.
Dave: I'll take an 8 here, as well.  My driver does not leave the bag.  A trinity of wobbly 3-woods gets me to the greenside bunker.  After three hacks at it from the beach, I lie 6, a yard from the hole.  Two put for the snowman.  Also, I think the pink dogwoods look poisonous.
Jon: Pink dogwoods are poisonous but only to women. The all male members of Augusta National would have it no other way. Also, it would take you way more than 3 to get out of any bunker. You might as well putt from the sand.
Dave: I never specified a club.
Hole No. 3 "Flowering Peach" Par 4 350 yards
Jon: It's time we mentioned that these holes were named after massage parlors in Stamford CT.
Dave: I was just thinking that I would approach the Flowering Peach like a clumsy combination of AC Green and Kyle Brady.
Jon: I'm going with a bogey.  First par putt of the day but I have no chance on any of these greens so I miss by about 10 feet but sink the putt coming back for 5.
Dave: Have you had a look at this green?!  I could safely hit driver here, without fear of making those bunkers– thanks to a little trick I like to play with the horizontal axis.  I could be, potentially, chipping up the green on my third.  Then, from there? I'm off the green on my first putt– hopefully not on the beach– but recover with three putts from the fringe.  7.  Which is like a birdie for me.
Jon: I believe Sir Nick Faldo would call this green "undulating".
Hole No. 4 "Flowering Crab Apple" Par 3, 240 yards
Jon: First par 3, I'm stuck between a 3 iron and a 5 wood which I don't carry so I try instead to go easy on a 3 wood which just causes me to rip the ball 30 yards over the green into the flowering crab apples. Circus from there, I'll take the double par and be happy.
Dave: A 240-yard Par 3, with a green the size of a g-string?  I'm so sure.  Uphill the whole way, with a nice little false front.  I don't even make it to the back of the green, instead opting to squib my way up the slope.  On holes like these, I like to lay up.  There is no reason for me not to card an 8 here.  3 putts.  8.
Jon: The hole's up hill? Ok, so maybe 3 wood is hooked off the tee instead of over the green. either way I don't have a club for this hole.
Dave: Can I just point out how unfair it is that all of these greens– so fast to begin with– funnel back-to-front?  If you're long, no putt.  If you're short, off the green and try it again.
Jon: If we ever do end up playing Augusta National for real can you promise to not talk about how unfair the course is and just enjoy the moment!
Dave: Yeah, definitely.  When we play Augusta, I'll try to enjoy it.
Hole No. 5 "Magnolia" Par 4, 455 yards
Jon: I smell another fairway bunker followed by a miraculous 4 iron out of the sand that leaves me 100 yards short of the green which is just about the right distance for me to pick my head up and chunk a sand wedge about 15 feet. Next wedge is perfect but by then, damage done. I'll take a 7.
Dave: This is my favorite hole on the front.  Modeled after the Road Hole, if you didn't know.  I would tee with a proper wooden club if i had one.  Also, I've started drinking.  The only thing that saves me here is that, for once, it's relatively open.  Dogleg left, again, so the driver stays in the bag.  Iron-iron-iron, with one of them being a good one.  Doesn't really matter which one, right?  I'm on another busy green in four.  Seeing clearly, putting calmly, I'm down in three more.  7 for me. These holes are so frigging beautiful, by the way. Have you heard the history about where all these different flora come from?
Jon: Well yes, but only because I began my research for this column back in November.
Dave: So you're familiar with Fruitlands Nursery, then?  And that mad-scientist Belgian fellow? For another day, I suppose.  On to 6!
Hole No. 6 "Juniper" Par 3, 180 yards
Dave: Juniper. You know what that means…it's GIN time!!!
Jon: What are we 75? If you ever do bring gin onto the course you must also walk with a push cart and intentionally hit into the group ahead at least 3 times.
Dave: This is the gentlemanly South.  Gin is perfectly acceptable.  Especially in the afternoon.
Jon: What do you know about the gentlemanly South? You were born in Delaware and grew up in Fairfield County CT. Florida for spring break does not qualify as understanding the South.
Dave: I've seen "Midnight in the Garden of Good and Evil". Just tee your ball up.
Jon: Fair point. Par. I'm calling it right now. Eat your heart out McIlroy!!
Dave: The advantage of a down-facing tee is that I can roll a flubbed iron right up into those guardian bunkers.  Three to get (putt) out, three more into the hole.  7.  No problem.
—————————
Total score through 6 holes: Jon – 35 Dave – 45
Check back in later today for Parts II and III