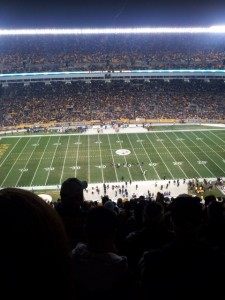 Before getting into the Week 9 recap, a quick thanks to Connecticut Light & Power for restoring my electricity Sunday morning just in time for a full slate of NFL games. It was a long week living without power, but I suppose it's something we in the Northeast are all going to have to get used to now that New England is turning into the Pacific Northwest.
Quick Snaps
Giants 24 Patriots 20 – What is about the #85 for the Giants when they play against the Patriots? First David Tyree saves the day in Super Bowl XLII now Jake Ballard, a tight end unaccustomed to game breaking plays, makes two huge catches on the final drive, including the game winning touchdown. Kudos also to Eli Manning who should be allowed to throw off his back foot so long as he continues to make the kinda plays he did Sunday in Foxboro. It doesn't look like it is going to get an easier for New England who now travel down to MetLife Stadium next weekend to take on the division leading New York Jets.
Dolphins 31 Chiefs 3 – Congrats to Miami on their first win of the season and for losing valuable ground in the "Suck for Luck" campaign. I had a sneaking suspicion this was going to happen as soon as I took KC in my suicide pool. Maybe the Chiefs are one of those teams – along with the Redskins – that should look into trading for Peyton Manning this offseason if Indy ends up with the top pick and takes Andrew Luck. I'm not sold on Matt Cassel either, but still appreciate his work during the Brady-less Patriots season of 2008.
Falcons 31 Colts 7 – So let me get this straight. Atlanta rookie WR Julio Jones only caught 3 passes Sunday yet somehow gained 131 yards and scored 2 touchdowns. That's the sort of performance that his alma-mater Alabama could have used Saturday night against LSU. Speaking of the "Game of the Century", I really wish Tigers coach Les Miles wore these vintage sneaks during the game. Bayou Bengals probably would have scored an extra field goal if he had.
Saints 27 Buccaneers 16 – Josh Freeman is one of the players that everyone says is going to be a star in this league for a very long time yet whenever I sit down to watch him play he usually looks like a very pedestrian quarterback. I was expecting a bit more Sunday against a previously porous New Orleans defense.
49ers 19 Redskins 11 – When the Jets/Bills turned into a laugher, I switched over to Fox and watched the final 10 minutes of this game and boy, Washington has easily one of the worst offenses in the league. I understand they are injured and don't really have a reliable quarterback but you would still think Shanahan could conjure up a little more magic. Or maybe the SF defense is just that good. One of the biggest games of Week 10 will be when the NY Giants visit Candlestick to take on the 7-1 Niners. This game is going to bring back such found memories of Mark Bavaro, Leonard Marshall, Tom Rathman, and John Taylor – not to mention Joe Montana, Roger Craig, Jerry Rice, Phil Simms, and LT.
Packers 45 Chargers 38 – The most shocking thing about this game wasn't the final score but rather that it was played in the rain. I thought that never happened in San Diego. At least that's what Ron Burgundy always told me.
Broncos 38 Raiders 24 – And while most are going to focus on either the Raiders falling to 0-2 with Carson Palmer OR Tim Tebow bringing an end to the very humorous yet somehow inappropriate > Tebow, maybe what everyone should be talking about is how with this win the Denver Broncos are now unbelievably only a game out of 1st place in the AFC West.
Cardinals 19 Rams 13 – Does this mean Arizona QB John Skelton gets to keep his job for at least one more week? Also, the Cardinals should wear those black jerseys for every home game.
Texans 30 Browns 12 – So much for a Texas homecoming for former Longhorns QB and now Browns signal caller Colt McCoy. When you're the former face of one of the most recognizable college football programs in a city, Austin, known for its music, food, and nightlife, it's tough to imagine your life getting any better especially when you now spend your afternoons on the shores of Lake Erie. (No offense to the Great Lakes. I love the Great Lakes. In fact if I had to rank my favorites Great Lakes I would go: Ontario, Michigan, Superior, Erie, and Huron.)