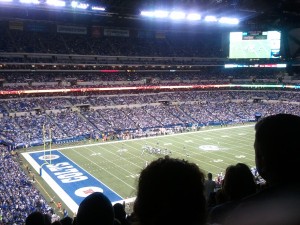 NFL Week 16
Houston (-7) over INDIANAPOLIS – Now that the Colts have gotten the one win out of the way they can go back to focusing on securing the top pick and Andrew Luck. Now that Matt Barkley will return to USC for his senior year, teams in need of a QB will be lining up to make a deal with the well positioned Colts.
KANSAS CITY (-2.5) over Oakland – Todd Haley would probably still be coaching the Chiefs if he were a little more willing to play Kyle Orton instead of Tyler Palko. Instead, Haley, with scraggly beard and massive ego in tote, is probably busying himself by scouring the Amazon Gold Box for some last minute deals on kitchen appliances.
BUFFALO (+3) over Denver – C'mon Buffalo! How do yo expect to hold onto the Bills when you can't even sellout a game against Timothy and the Amazing Technicolor Dreamcoat?
TENNESSEE (-7.5) over Jacksonville – I bummed this game isn't being played in Jacksonville. I always love it when the grounds crew throws a little Santa hat on top of Jaguar logo. Reason enough to prevent the team from moving to Los Angeles.
Arizona (+4) over CINCINNATI – Sneaky great game with both teams still fighting for a spot in the playoffs. Who knew that a game between John Skelton and Andy Dalton could be so compelling.
Miami (+9.5) over NEW ENGLAND – Weird things always seem to happen when these two team play during the final few weeks of the NFL season. Like the time in 2003 when a major snowstorm buried the northeast in over 2 feet of snow, preventing my dad and I from reaching Gillette Stadium. We got as far as Route 1 in Foxboro before having to turn around due to traffic/lack of parking spaces. I'm still waiting for my refund Mr. Kraft.
BALTIMORE (-12.5) over Cleveland – How can anyone still presume that the Ravens are the favorites to win the AFC after the total egg they laid last Sunday in San Diego? You can usually tell within the first couple of snaps whether or not Joe Flacco has taken his medication and clearly, against the Chargers, he had yet to catch his "fix".
NY Giants (+3) over NY JETS – Head says Jets. Heart says Giants. If anything, I'll enjoy rooting for Tom Coughlin over Rex Ryan. Class Act > Hot Air.
WASHINGTON (-6.5) over Minnesota – Which coach looks like they have higher blood pressure: Mike Shanahan or Notre Dame's Brian Kelly? I say Shanahan. He constantly looks like he fell asleep in a tanning bed.
CAROLINA (-7.5) over Tampa Bay – I'd like to thank Ron Rivera, Cam Newton, and maybe even Bum Phillips for inspring me to change the name of my weekly NFL picks column.
PITTSBURGH (-14) San Francisco – Poor Ben Roethlisberger. Even when he is genuinely injured his teammates still don't believe him. Not that a healthy QB matters here, Steelers could win this game with Tyler Palko under center.
San Diego (+2.5) over DETROIT – I look for the Ford Field scoreboard to self combust by the end of the 3rd quarter when the score is already 45-42.
SEATTLE (+2.5) over San Francisco – Do you think Pete Carroll told Matt Barkley to stay in school for one more year until the Seahawks were in better position to draft the USC QB?
Philadelphia (+1.5) over DALLAS – We're are only weeks away from the 8-8 Eagles hosting a first round playoff game.
GREEN BAY (-12) over Chicago – Caleb Hanie could probably use a good stiff drink right about now.
NEW ORLEANS (-6.5) over Atlanta – Darren Sproles is an amazing football player especially when you realize that he is roughly the same size as Tom Cruise.
Last Week 7-9 (Overall 115-106)