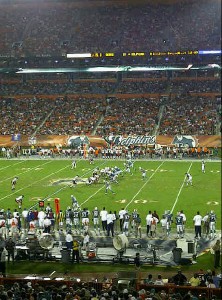 Yesterday, I gave a view from the Heat/Suns game and wrote about how the fans in Miami do not support their basketball team like they should .  Last night, during the Dolphins Thursday Night Football game against the Bears, things became clearer to me.  Maybe it's a Miami thing.
During the the second half of Chicago's convincing 16-0 win over Miami, it became clear to TV viewers that Bears supporters in Sun Life Stadium were the much more vocal group.  This could have been a product of the game itself.  The Dolphins looked lost on offense and eventually wore down on defense.  The Bears were solid on both sides of the ball, especially on defense, where they sacked a hapless Tyler Thigpen 6 times. So Chicago did have much more to cheer about during the game.
However, why were there so many Bears fans in the stadium to begin with? Did a lot of Midwesterners travel down to South Florida for an early Thanksgiving break?  Are the Chicago Bears truly one of "America's Teams" with a national fanbase?  Or, like with the Heat, do people in Miami have priorities that prevent them from supporting the Dolphins?
Share your views.