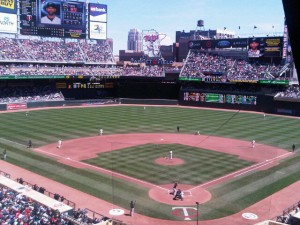 Older people can be so ornery when they have their routines broken. I have an uncle who had the same breakfast, oatmeal and coffee, for almost 30 years until one morning his son, my cousin, got up real early and ate what was left of my uncles oatmeal. That morning, my uncle had to settle for a poached egg and grapefruit and trust me when I tell you that he hasn't been the same since.
When news broke on Saturday that Yankees DH Jorge Posada was refusing to play after being moved to the 9 spot in the lineup, I for one was not surprised. Posada's like 40 years old and has probably gotten so use to the routine of hitting 4-8 in the lineup that he just did not know how to cope. Have you ever seen your grandmother wake up and not turn on the Today Show then immediately go outside to water the garden? That's what I thought.  So no, I don't blame Jorge at all for his "reasons". Older people need their routines.
A Quick Trip Around the Bases
1B – So apparently Jose Bautista is for real. You would think that after his 2010 campaign, 54 HRs and 124 RBI, people wouldn't be all that surprised by his early power surge in 2011. His 3 home runs Sunday against the unfortunately hapless Minnesota Twins now gives Bautista 16 on the year putting him on pace to eclipse his total from 2010. At this rate I'm not sure what's going to be higher: Jose Bautista's home run totals or number of times a blogger compares his career to that of Brady Anderson? For a columnist of Jon Heyman's clout to essentially vouch for Jose, here's hoping his clean and off the sauce.
2B – Lance Berkman continues to rake this season as if he were still in his Killer B prime back in Houston. My former summer league coach had also worked previously with Berkman in the Cape Cod League and this coach would always tell me that Berkman had the quickest hands he had ever seen. I once asked my coach to compare my hands to Berkman's and his response, "Jon, at least you play the game the right way". So I got that going for me, which is nice.
3B – On Sunday, the Braves and Phillies faced off against one another in Atlanta in what MLB called the "Civil Rights Game". I'm all for honoring transcendant moments in American history just as long as it means that teams will wear their throwback uniforms. And what is it about throwback unis anyway? Not only are the primary colors jarring to the senses but the sizing of the jerseys and pants are way off as well. Players looked they had to borrow their parents uniforms yesterday almost like how we use to on the junior varsity.
HR – Speaking of the Braves, poor Chipper Jones has another knee injury, this time a torn meniscus. If he opts for surgery he could miss up to a month. I have a torn meniscus and cartilage in my right knee and a doctor told me to have it surgically repaired. When I asked about the downside to surgery he told me that I would have to deal with a lot of arthritis in that specific joint when I get older. So you got that to look forward to Chipper, which is nice.