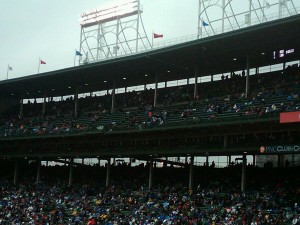 Have you ever tried looking at a map of the world where down is up and south is north as if the globe were flipped over on its axis? Try it sometime and when you do you will realize that it makes no sense. It's like an optical illusion sure to make you go cross-eyed in a matter of minutes. Well, this is how I feel about the AL East. Sure its fun to look at the standings in early April and see Baltimore, Toronto and Tampa Bay at the top but the longer you look the more backwards it seems. Something just feels out of place until you come to your senses and realize what was wrong with that earlier picture: no New York or Boston. Well luckily, April 25th is here and the Yankees and Sox have reclaimed their rightful place – 1st and 3rd respectively – at the top of the AL East world.
Bitter much? When you're an Orioles fan, like myself, bitterness is part of the bargain. I only wish I were allowed to hope into May. That would be like an early Christmas/birthday/Father's Day present wrapped into one. This past weekend series vs the Yankees was a bitter pill. First a rainout on Friday, then a 15-3 butt whipping on Sat night followed by a 6-3 extra inning heartbreaker on Easter Sunday. It was like unwrapping a Cadbury Creme Egg only to find that the chocolate egg has been cracked causing the sugar yolk paste to ooze onto the tin foil wrapper. Very frustrating stuff!!!
And now for your weekly trip around the bases.
1B – Andre Either has a 21 game hitting streak. Pretty impressive for a guy who I actually played against in summer ball.  Unfortunately his prodigious accomplishments at the plate are being over shadowed by the most public divorce in MLB today.
2B – The S.S. Ozzie Guillen is sinking.  The White Sox have lost 9 of 10 putting their overall record at 8-14 bad enough for last place in the AL Central. Good news for us sports fans, you can watch it all unravel here on Ozzie Guillen's twitter feed.
3B – Granted it was a overcast/cold Friday afternoon in the Windy City but can you remember seeing so many open seats at Wrigley Field? Pittsburgh? Yes. Toronto? Probably. Citi Field…ABSOLUTELY!!! But every thing is different on the Northside. Good news Cubs fans, Bud Selig isn't overly concerned about the attendance problem.
HR – Speaking of the New York Mets, how about the Amazins rattling off 4 wins in a row? It's enough for Jerry Seinfeld to forget about his ongoing feud with Donald Trump.