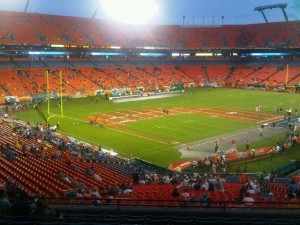 Champs: New England Patriots (11-5)* – All you haters need to back off the criticism of Tom Brady for being the face of UGG for men. First of all, have you seen those things? They look like a really comfortable pair of cowboy boots. They look like the type of footwear Clint Eastwood would have really appreciated while filming a Sergio Leone spaghetti western in the Apennine mountains. And remember, according to your grandfather, no one has nor ever will ooze the same kind of rugged manliness as Dirty Harry.
On Deck: New York Jets (10-6)* – I just have this strange feeling that the Jets offense is going to miss WR Braylon Edwards much more than they realize. Plaxico Burress is a nice, redemptive story but after nearly two years in the clink, who knows how much he can actually contribute on the field. Of even greater concern, placing Greg McElroy on IR means the Jets will now have to find a different backup to hold the third string quarterback clipboard. I have always wondered what they are writing down on those things anyway. Could just be a couple of reserves playing a game of "hangman" or maybe doing the crossword puzzle.
Limbo: Buffalo Bills (7-9) – Ryan Fitzpatrick is the best quarterback to come out of the Ivy League since Jay Fiedler. Speaking of the former Dartmouth College great, did you know that Fiedler was close childhood friends with former New York Knicks enforcer Anthony Mason? That would be like Fitzy and Buffalo WR Stevie Johnson attending the same preschool.
Chumps: Miami Dolphins (5-11) – There's a chance, repeat chance, that the Dolphins are in postion to take Stanford QB Andrew Luck with the 1st pick in the 2012 draft. Of course that would have to mean that the 2011 season is a complete disaster for a team that only a few years ago was considered one of the favorites to win the AFC East. Oh how the average have fallen.
Fantasy Sleepers – Brandon Marshall (WR, Miami), Ryan Fitzpatrick (QB, Buffalo), BenJarvus Green-Ellis (RB, New England)
Ready for Primetime Games – 9/11: Dallas @ NY Jets, 9/12: New England @ Miami, 10/2: New York @ Baltimore, 10/17: Miami @ NY Jets, 11/13: New England @ NY Jets, 11/17: NY Jets @ Denver, 11/21: Kansas City @ New England, 12/4: Indianapolis @ New England
*denotes playoff team