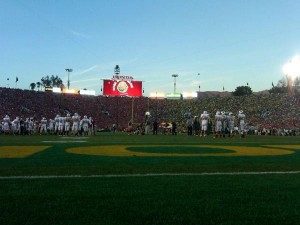 Before starting in on Wild Card weekend, I thought I would take a few lines of prose to discuss how much pain I have endured this past week because of my adopted love the Wisconsin Badgers. First Monday and the Rose Bowl. Heading into the game I felt that the Badgers offense could keep up with the Flying Prefontaine's from Eugene. Sure enough, Wisco kept pace in Pasadena, and if it weren't for some questionable clock management, they could have walked away smelling roses. When Russell Wilson went to spike the ball with :02 seconds remaining, my first thought was: perfect, just enough time to run one final play. But then the clock struck :00 and the replay booth confirmed my greatest fear that :02 was not enough time for two plays. Of course, this wouldn't have been a problem if either a) the offense had a play called for exactly this situation or b) Bret Bielema didn't treat his second half timeouts like old receipts from the grocery store.
If Monday weren't painful enough, the next night back in Madison at the Kohl Center proved to be just as perplexing. The Mayans predicted two things would happen in 2012. #1: The world will come to an end and #2: all digital clocks would be synched. How can you expect Big Ten officials to make a fair decision when one clock read .2 seconds while the other showed .0? Whatever the case, the Ryan Evans would be game tying triple didn't count and Bo Ryan loses another heartbreaker to Sparty.
Wild Card Weekend
Saturday
HOUSTON (-3) over Cincinnati – Watching this years Rose Bowl brought me back to the 2011 edition when Wisconsin lost to the Andy Dalton led TCU team. I have yet to forgive Dalton and do not wish him any luck as he leads his Benglas against the Texans. Speaking of Houston, that failed two point conversion against the Texans was totally scripted. Probably by Mike Francesa who would have given anything for the NY Jets to miss the playoffs including his subscription to Horse and Hound.
Detroit (+10.5) over NEW ORLEANS – As a sports fan, there'd be no better place to be this weekend than NOLA. With both the NFL playoffs AND the CFB National Championship taking place in the Superdome, I would pay a pretty penny for safe passage to the Big Easy. Of course, with prices these days, I'd probably have better luck becoming a butt sniffing corporate hanger oner just punching his time sheet until the next handout.
Sunday
NY Giants (-3) over Atlanta – If there is one thing I can guarantee you about the New York Giants is to expect the unexpected. That, and if you are going to spend a billion dollars building a new stadium, the least you can do is give it some personality. Geez. MetLife Stadium is about as charismatic as Nick Saban who, coincidentally, I'm also convinced is getting shorter and shorter.
DENVER (+8.5) over Pittsburgh – Those footsteps you hear belong to Brady Quinn. Yes, that Brady Quinn. ALso, don't be surprised if you see John Elway rushing onto the field to pull the plug on Tim Tebow himself before the Broncos QB self combusts all over himself like Jeff Daniels in Dumb and Dumber.