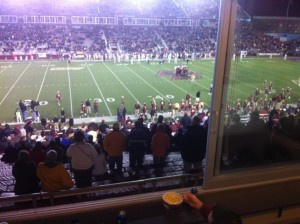 Atlanta (-7) over INDIANAPOLIS –  If the Colts were to trade away Peyton Manning this offseason and start fresh with Andrew Luck, what teams would be interested in acquiring the services of a 35 year old veteran QB with a cronic neck issue? Early favorites include Redskins, Browns, and – gulp- Broncos.
Tampa Bay (+8) over NEW ORLEANS – If I hear one more person in Connecticut comparing Snowtober to Hurricane Katrina I'm going to drive my Volvo wagon into their gazebo and let my two black labs take a crap on the front lawn. (Note: I don't own two black labs or a Volvo wagon but I think you get my point.)
HOUSTON (-11) over Cleveland – The Texans burned me 4 years ago when I took them in week 1 of my suicide pool. Which is why I tremble like a leaf at the thought of a Browns upset in Houston this weekend.
BUFFALO (-2) over NY Jets – Is Ryan Fitzpatrick really worth all this money? I guess it's nice that the Bills now have a franchise quarterback in place for the next 5 season. That hasn't happened in Buffalo since the days of Jim Kelly and Frank Reich. For the Jets, why are NY fans so upset at Joe Namath for calling Rex Ryan "fat"? Broadway Joe has always been a straight shooter and I'm sure Rex would be the first to tell you that he can afford to drop a few lbs. But the Jets head coach also seems like the kind of guy who doesn't really give a crap what other people think, including Namath, so don't look for his appearance on the sidelines to shift all that much over the next couple of weeks.
KANSAS CITY (-4) over Miami – One of the greatest single revelations from Ungaurded, the Chris Herren documentary on ESPN, was hearing about all the support he received from teammates during his rookie season with the Denver Nuggets. On the BS Report with Bill Simmons, Herren talked about how one teammate in particular, George McCloud, was incredibly involved in keeping the troubled guard clean. He told the story about how on a night in Miami, McCloud found Herren essentially passed out in a South Beach strip club and proceeded to drag him by the scruff of his neck back to the hotel. That's the kind of leadership that Herren could have used when he bottomed out playing in places like Tehran, Iran.
WASHINGTON (+3.5) over San Francisco  – Upset Special!!!! Upset Special!!! And because I have nothing more to say about this particular game, let's all watch Washington Capitals star forward Alex Ovechkin drop a f-bomb on head coach Bruce Boudreau during the 3 period of a recent game vs the Anaheim Ducks.
DALLAS (-11.5) over Seattle – Funny how Jessica Simpson and Tony Romo's wife Candace are both pregnant because as you know, the pop star(?) and Cowboy QB were once an item. I'm not trying to imply anything other than sometimes competition works in strange strange ways.
OAKLAND (-8) over Denver – Tim Tebow is the most polarizing public figure since Charles Foster Kane. The latest > Tebow ESPN controversy, perpetuated by Deadspin, is just the most recent in a long line of Tebow-centric gags. I'm still waiting for SNL to memorialize the Broncos QB in a game show sketch pitting him against Mother Teresa, Gandhi, and George Bailey.
TENNESSEE (-3) over Cincinnati – It could be that we will look back at the end of the regular season and say that this was the game that determined the final playoff spot in the AFC. Shocking, I know.
St. Louis (+2) over ARIZONA – I wouldn't watch this game even if I were a Fordham University graduate.
NY Giants (+9) over NEW ENGLAND – What's the over/under on number of times during the Fox broadcast that Joe Buck and Troy Aikman reference Super Bowl XLII: 25, 35, or 100?
Green Bay (-5.5) over SAN DIEGO – How dare people continue to blame Philip Rivers' recent poor play on his 6 kids. Any parent knows that it is much easier playing zone than man-to-man.
PITTSBURGH (-3) over Baltimore – For fantasy purposes, I would really appreciate it if Steelers coach Mike Tomlin told us before 12pm Sunday whether or not he plans to have Ben Roethlisberger throw the ball 50 times again like last week against the Patriots.
Chicago (+8.5) over PHILADELPHIA – When the Eagles and Bears meet Monday night how can you not think about the Fog Bowl in 1988? For me it brings back such fond memories of Randall Cunningham and Buddy Ryan. Too bad this game is being played in Philly and not Connecticut where, due to all the power outages, there is enough wood smoke and emergency generator emissions to create a low lying brown haze.
Last Week 5-8 (Overall 61-55)
view from Chestnut Hill courtesy of @RichAberman