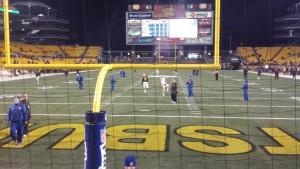 NFL Week 14
PITTSBURGH (-14) over Cleveland – I had no idea that the cities of Cleveland and Pittsburgh were only 130 miles apart.
Indianapolis (+16.5) over BALTIMORE – I'm riding Dan Orlovsky all the way to the back of the endzone.
CINCINNATI (-3) over Houston – Andre Johnson's hamstring is singly handedly killing any chance I had at winning my fantast football playoffs.
Oakland (+11) over GREEN BAY – Deadspin just ran an interesting story on how owning stock in the Packers isn't really all its cracked up to be. I guess now I'll have to restrategize my Christmas wish list.
NY JETS (-10.5) over Kansas City Chiefs – Why would Charlie Weis want to go and coach at the University of Kansas? I thought Florida was his "forever job".
DETROIT (-10) over Minnesota – Wait, Ndamukong Suh is from Portlandia?
TENNESSEE (+3.5) over New Orleans – Upset Special!!! Upset Special!!! No Music City Miracle Sunday for Drew Brees and the Saints.
MIAMI (-3) over Philadelphia – The Eagles should have left half their team in Seattle after the way they played against the Seahawks last Thursday night. The Dolphins are quite simply the best 4-8 team OF ALL TIME!!!!
New England (-8) over WASHINGTON – I'll see your Tony Gonzalez, Shannon Sharpe, and Antonio Gates and raise you a Rob Gronkowski. Look out Jacoby Ellsbury, Gronk's coming for your gaggle of female followers from the greater Natick area.
CAROLINA (+2.5) over Atlanta – Cam Newton > Matt Ryan.
Tampa Bay (-2) over JACKSONVILLE – When your entire upper deck is covered in tarps, maybe it's time to relocate?
San Francisco (-4) over ARIZONA – The suddenly frisky Cardinals are only getting 4 points at home to the NFC West Champs. Jim Harbaugh is way too intense to allow his 49ers team to slack off down the stretch. He also doesn't believe in Santa Claus, the Easter Bunny, or ultimate frisbee.
DENVER (-3.5) over Chicago – If Jay Cutler and Matt Forte were playing the Bears would be favored by 3.5. Instead, Caleb Hanie and Marion Barber lead Chicago into Denver to take on the Broncos and Tim "The Greatest Leader Of All Time" Tebow.
SAN DIEGO (-7) over Buffalo – The Chargers make me feel like George Costanza when he losses his glasses. "You're eating onions, you're spotting dimes. I don't know what the hell is going on!"
NY Giants (+3.5) over DALLAS – What a game. And I'm already regretting this pick.
SEATTLE (-5.5) over St. Louis – I'm happy for Albert Pujols I really am. $254 million is too much for anyone to turn down, especially a senior citizen.
Last Week 9-7 (Overall 102-87)