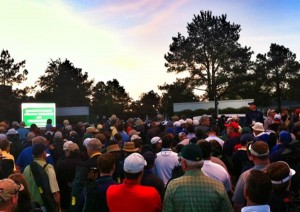 Since the Masters podcast with my buddy Chip was such a huge success, we decided to follow it up with a lengthy email exchange during Easter Sunday's final round. Thanks once again to Grantland for the idea. What would fledgling sports bloggers do without you?
——————
Jon: Hello friends, and a Happy Easter to you and yours. I don't know about you but when I think about all of the sins Jesus died for tops on that list must include the decision to avoid your wife and kid(s) during the 6 plus hours of Masters Sunday coverage. So really, when you think about it, it's all Jim Nantz's fault after all.
Jon: By the way, on the subject of whether or not they sell alcoholic beverages at Augusta National, now that I know what to look for I'm seeing green plastic cups everywhere. All sorts of corporate types double fisting. Which reminds me about a story I heard this week where a lot of Fortune 500 big wigs pay runners to sprint to a desirable spot on the golf course where they want there fold out chair set up b/c at Augusta National it's first come first serve and once the chair is down no one is going to mess with it. I'm so desperate to go to the Masters that one day I might try to become a corporate runner. Although, the more I think about it the more it would probably look like this.
Chip: Do you think Tiger has a full slate of post round family activities planned?
Jon: Louis Oosthuizen w/ a remarkable double eagle on the 2nd hole. First albatross on #2 in Masters history. Oosthuizen now at -10, two shots in front of Hanson and Mickelson. If this keeps up, before it's over I wonder how many times I'm going to misspell Oosthuizen?
Jon: Meanwhile, in Baltimore Jason Hammel has a no hitter through 7 against the Twins. Could be the greatest Orioles moment in the last 15 years.
Jon: And just like that, the no hit bid in Baltimore ends. Darn you Justin Morneau!!! I should have kept my fingers quiet.
Chip: Hanson, not hot right now. Hanson.
Jon: Mickelson knocks his tee shot at #4 off the stands, could be an early turning point on Sunday. Also CBS just showed the Adam Scott ace on #16 and it's nice to see that caddy Stevie Williams has yet to find his undershirt.
Chip: Wow! That is all I have. Wow!
Chip: PS, Who picked out Phil's wardrobe? #wouldplayaugustainadress
Jon: Mickelson finishes w/ a triple bogey at #4 and falls to -5, 4 shots behind the leader Oosty. What an embarrassment to all of us left handed hackers out there judging these professionals golfers from the comfort and anonymity of twitter.
Chip: What odds will you give me on Phil coming back? Because I will take anything.
Jon: Oosthuizen saves par on #6 and this is starting to feel like it could be his day. On a separate note, my son is now up from his mid afternoon siesta which will make Masters Sunday all the more challenging.
Chip: I paid it forward yesterday and this morning and am out of the house this afternoon.
Jon: Seeing the side of Hanson's cap reminds me, is there a worse marketing campaign than Taylor Made's "RocketBallz"? Golfers have such such dirty minds.
Chip: You remembered it and are emailing about it…so what does that say about the campaign?
Chip: Would you take free tickets to Masters Sunday if you knew you would get floored by a drive at some point?
Jon: Good question. Totally depends on who hits the ball. If it were Mickelson or another jovial soul like Ian Poulter than yes b/c I would most likely score some free loot out of it like a glove or signed ball. But if it were some real anal retentive cheap skate like Sean O'Hair…no way. (Editor's note: I have no idea if Sean O'Hair is in fact an "anal retentive cheap skate". Just needed the name of a random golfer.)
Chip: Or some random Swede.
Jon: Ok, leader Oosthuizen makes the turn at -9 w/ a two shot lead over Bubba and three over Phil. So, at this very moment, who wins and at what score?
Chip: He pars in, he wins.
Jon: How long before a professional golfer is sponsored by Cialis or Viagra? Fits the demographic perfectly. Or do you think golfers are much too vain and that fans would only assume that they were having a tough time "rising to the occasion"?
Chip: How long until the Champions tour is brought to you by Cialis?
Jon: Oosty gives one away at #10 and the lead is down to one. Is it just me or is every green at Augusta built on a 65 degree slope?
Chip: Is there anything better than the back nine at Augusta (not counting wedding, kids,etc)? Hint: no.
Jon: The only thing that comes close is your team winning a championship, which for my Baltimore Orioles is a distant memory. Although, have you checked the AL East standings this afternoon?
Jon: Peter Hanson w/ quite possibly the worst tee shot of all time at #12. It's nice to know the even the best golfers in the world are capable of a good old fashioned shank now and again. Makes me feel better about my game.
Chip: Oosty will win this thing.
Jon: Oosty w/ a 2 shot advantage heading to #14. Can someone ahead post a low number and make the South African sweat a bit? Poulter? Westwood?
Chip: Phil is the only one who can take this from him.
Jon: Kuchar eagles #15 to tie for the lead at -9. Patrons quite pleased as nothing energizes a crowd quit like a good "Kooch" chant.
Jon: Bubba ties lead at -10 but both he and Oosty shank drive on 17. Phil sitting pretty two behind?
Jon: Bubba and Oosty both w/ birdie puts on #18. When Watson putts it looks like he's playing mini golf. Same could be said about the way he hits his driver, irons, and wedges. Dude gets it done however.
Chip: Is there a single guy from Augusta rooting for a guy named Louis over a guy from GA named Bubba?
Jon: Bubba and Louis heading to overtime in Augusta. Who ya got? I'm calling an Oosty par and a Watson bogey. But who am I to pick against the Duke of Hazard?
Chip: You would root against America.
Jon: Both par #18 and head to #10 for a second playoff hole. Can't help but believe that there is no one happier at this very moment than the guys over at Ping. Lots of airtime for the logo.
Chip: Bubba has a big set of onions.
Jon: Nantz – "That's a win for Bubba's everywhere!!!"
Chip: And male criers.
————–
That about sums it up for us. Thanks for following our email recap and congrats to Bubba Watson for making it so that none of us ever take a single golf lesson again!