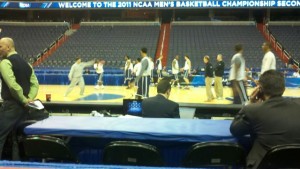 Washington, D.C. – Verizon Center (March 17 & 19: Rounds 2,3)
Why your dad likes D.C.: Because all dads love history. Fact: every dad claims to know more about history than their kids. Dads also really like to tell you what they know about history over and over and over again. Growing up, my dad must have told me a hundred times about Abraham Lincoln writing the Gettysburg Address on the train ride up to deliver his most famous speech. To this day, whenever I have to give a presentation my dad will remind me of this story.
Signature Food/Beverage: Got to be the martini, or a scotch on the rocks. Those government types are so refined. Anytime I visit friends in DC I end up drinking cans of PBR. Why travel all the way down to DC for a PBR when I only need to go to Brooklyn. So ironic. For food, I would go with Five Guys. Best "fast food" burger I've had. The chain started in DC but has migrated north to New England which is fantastic for my appetite but not so much for my cholesterol, blood pressure, and physique.
College Basketball History: With all the fallout following the recent Fab Five documentary, maybe now people will give the Georgetown basketball program its due. Patrick Ewing and John Thompson were as transcendent as Jalen Rose or Chris Weber and their Hoya teams actually won something.
Bracket Predictions: Round 2 – (8) Butler over (9) Old Dominion, (1) Pitt over NC-Asheville, (3) Connecticut over (14) Bucknell, (11) Missouri over (6) Cincinnati Round 3 – Pitt over Butler, UConn over Missouri