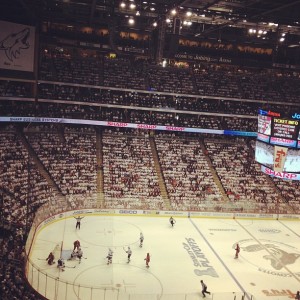 Since when did New York Rangers fans become such elitists? All you hear from the 19,000 or so hockey diehards in NYC is how annoyed they have become by all the "new" Rangers fans that have started to emerge from the various high rises and brownstones now that the team has reached the Eastern Conference Finals for the first time since 1994 . It's like these precious few hardcore Rangers fans are all members of Skull and Bones each with their own Amex black card and a personalized Friars Club jacket. NHL Hockey is really not that hard to understand after all (even without the glow in the dark puck) thanks in large part to the soothing harmonic analysis of Doc Emrick who has a way of explicating even the most convoluted of scrums and line changes.
Furthermore, as a society we need to come together and do a better job of defining the term "bandwagon fan". What exactly is the etymology of the term "bandwagon fan"? Is it similar to the root/story behind expressions like "dark horse" and "scapegoat"? Whatever the case may be, this phrase conjures way too many negative connotations and late arriving fans are generally underserving of such scrutiny and disdain. Is there really anything wrong with supporting a team only when they are successful? No offense to hockey "hardos" but it is not as if you needed to watch every single New York Rangers regular season game to be able to appreciate and understand the impressive run the team has been on en route to their Eastern Conference Finals series against the New Jersey Devils. There are certain things that even a "bandwagon fan" can decipher.
For instance, it doesn't take a diehard New York Rangers fan to notice that Henrik Lundqvist isn't just a pretty face. With all due respect to Bryant Gumbel, there is a whole lot more to the Rangers goalie than his steely blue eyes and perfect pitch strumming on the six string. Lundqvist has kept his team in games with some picturesque "pad stacking" and cat like reflexes obtained during long, cold winters on the fjord. The one knock on Lundqvist is that he can be beat glove side but it easy to overlook the Swedes shortcomings when he's busy perfecting his newest look.
You don't need to be a diehard with a Stefan Matteau jersey to tell that the Rangers boast one of the youngest, most talented rosters in the NHL. The strength of their team, beyond Hank, is a quartet of defenders: Dan Girardi, Michael Del Zotto, Ryan McDonagh, and Marc Staal. All of these blueliners are both spry and supremely gifted. Girardi, whose face is slowly beginning to resemble that of Peter Boyle in Young Frankenstein, has come up with several timely goals in the playoffs including an absolute laser beam of a slap shot in Game 1 against the New Jersey Devils.
Then there is McDonagh, the American with an Irish last name from the Twin Cities who played his college hockey in Wisconsin. Quite a memorable journey for such a dual threat who has been called upon to shutdown Alex Ovechkin and now Ilya Kovalchuk. Some people even think that McD has the type of offensive game to remind fans of Ranger great Brian Leetch. Marc Staahl and Michael Del Zotto have both logged a significant amount of time on the ice during this postseason because they play with the type of physical style and controlled aggression that John Tortorella loves and appreciates.
Speaking of the Rangers head coach, you don't need to be a diehard fan to understand that Torts is an absolute lunatic. If you were to settle on just one adjective to describe  John Tortorella what would it be? Intense? Ornery? Combustable? Passive aggressive? Whatever the term, there are many players, or reporters for that matter, who do not want to end up on his bad side. Torts blood runs hot. Like eruption of Mount Vesuvius lava hot. His players are like the innocent Roman citizens of Pompeii who coexist peacefully until the moment their coach heats up and explodes with anger, burying the team in 10 minutes of volcanic ash and vitriol. Torts is also like that disapproving father that kids spend their whole lives seeking approval from. This phylum of coach works for a young team like the Rangers but the schtick can wear thin when dealing with a much more seasoned group.
Back to the youth movement for a second, you don't need to be a Ranger diehard to see that Chris Kreider has the potential to be the most explosive player on the ice. When he picks up a full head of steam he looks like Devin Hester returning a punt. His speed is without parallel, perhaps only matched by fellow winger Carl Hagelin who might be just as fast as Kreider but lacks a lot of the same size and physicality and is often pushed off the puck by larger defenders. Again, even a bandwagoner can figure this stuff out.
You don't need to be a Ranger diehard to notice that with his facial hair Brian Boyle looks like he should be filming Young Guns 3 with Emilio Estevez and Lou Diamond Philips or that Ryan Callahan plays with the same type of will and tenacity as a former Rangers captain who also happened to date Madonna. Just about any fan can tell that Brad Richards get super pissed off when the referees tells him to get out of the faceoff circle for premature "faceoffing" or that Mike Rupp is a high stick away from enciting a riot across the Holland Tunnel the scale by which we haven't seen since the time Sylvester Stallone saved Judging Amy from the rising waters of the mighty Hudson.
And finally, you don't have to be a Ranger or hockey diehard to realize that the Los Angeles Kings have gone 10-1 in the playoffs thanks largely to the play of their goaltender Jonathan Quick. The Milford, CT native, and Avon Old Farms alum, has stacked the City of Angels on his pads and led them to within 2 games of the Stanley Cup Finals. A Western Conference Championship would be the Kings first since 1993 when the team was led by the Great One and this great mullet. Not that the Rangers are already looking past the Devils but you don't need to be a diehard fan to understand that in hockey the only thing that matters is the Stanley Cup. Even a bandwagon fan knows that.