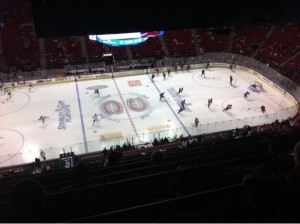 The first 6 months of the NHL calender – aka the regular season – are largely irrelevant. Injuries can change the season, you may end up in the half of the league that makes the playoffs… yes, half. The season is so long that little wrinkles, a win or loss there mean almost nothing. Teams will switch goalies mid-season, and as the Vancouver Canucks proved, maybe even mid-first round playoff series!
Playoff game sevens, however, are entirely different. Playoff hockey in general has an entirely different feel. Players skate faster, shoot harder, hit way harder. It is so exciting to watch for hockey fans and Americans alike. In game seven it is all or nothing, and in a game where one puck bounce will make the difference, players are extra focused and work extra hard. Imagine the USA v. Canada Olympic match every time they take the ice no matter the round.
Which brings me to what will likely be the greatest game 7 this year, between the Bruins and Les Habitants. Take it from me, Bruins fans represent a specific type of Masshole. I've only been to a handful of Bruins games, but I'm pretty sure I've seen a fight in the stands in every one. You get the impression that Bruins and Habs' fans don't care much for each other either. That bad blood radiates from the ice.
Lucic's hit on Spacek last night certainly shows that there in no love lost between these two member of the Original Six. They are hitting hard this series, and tonight it is both teams' last chance. It is cliche, but that is what drives excitement in an NHL game 7. The players exhibit tremendous skill and athleticism, but hockey games that are close will often come down to some random puck bounce, or an unpredictable goalie rebound. Watching the game you spend half the night trying to catch your breath.
Whichever side you root for, the new incarnation of the Big Bad Bruins, or the Le Bleu-Blanc-Rouge, tonight will be great to watch, that is if you can take the time to locate VS. on your channel menu.