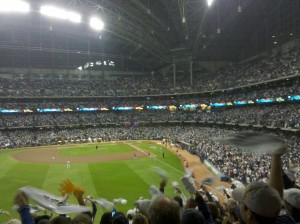 Even though it's not the Hatfield's vs. the McCoy's, this 2011 World Series between the St. Louis Cardinals and Texas Rangers does promise to be really really exciting for at least two isolated parts of the United States. For those living on either coast, I'm hearing really good things about Homeland on Showtime.
But seriously, all jokes aside, just because this Cardinals/Rangers series threatens to be the lowest rated World Series in television history does not mean that some people aren't super jazzed up for this epic clash in America's heartland. Take for example my friend Connor from St. Louis. Connor was 7 in 1982 when his Redbirds beat the Brewers to win the World Series. Flash forward 19 years and a liter of kids later and he's sitting on the couch Sunday night with his 7 year old son watching as STL disposed of Milwaukee again, this time clinching the NL pennant.
Here's where the story gets interesting. Connor has a good friend who in early September, when the Cardinals were 9 games out in the Wild Card, travelled down to Las Vegas and laid $250 on St. Louis to win the NL Championship at 500:1 odds. He won $125K Sunday night. While in Sin City, he also put another $250 on the Cards to win the World Series at 1000:1. Amazingly, he now sits 4 wins away from another $250K. There must be countless other stories out there similar to this, and maybe even a few that don't involve high stakes sports betting.
And just to show you that there are multiple people who care about this World Series, I asked my buddy Dan, a diehard Cardinals fan, if he would rather win a World Series this season or re-sign Albert Pujols to a longterm deal in the offseason. Being the loyal fan that he is, and perhaps also afraid to anger the benevolent spirit of Jack Buck, Dan flat out refused to answer my question. So… let me do the dirty work for Cardinals fans. In the spirit of my hypothetical question, if you take Pujols long term what you are basically saying is that the Cardinals will win multiple championships after this season which seems highly unlikely considering the age of your hall of fame first baseman as well as the contract status of resident svengali Tony La Russa. Even though Dan can't say it, I'm willing to bet that most Cardinals fans would rather win the World Series this year and take their chances with Carlos Pena for the next 4 seasons after that. Come to think about it…
And finally, a very quick scouting report. On paper these are two very equal teams each with deep lineups, adequate starting pitching, and stellar bullpens. Both managers, Ron Washington and Tony La Russa command the respect of their players even though Washington has been prone to partake in some recent involuntary breakdancing.
I predict the Cardinals win in 7, Lance Berkman is your World Series MVP, and Pujols takes a massive pay cut to sign with the Baltimore Orioles this offseason. How does that sound to you Dan?