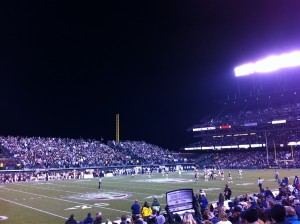 The Big Game is finally here, so get your corn chips and salsa ready because the College Football playoffs end tonight! (Whoops. Sorry about that. It's been so long since a CFB game mattered that I just totally forgot there isn't actually a playoff system. My bad.)
The Auburn Tigers and Oregon Ducks have somehow managed to crack the "Members Only Club" that has, up to now, seemed to only feature the USCs, Floridas, and Ohio States of the world.  Oregon and Auburn will be only the 13th and 14th teams to vie for college football's national championship when they kick off at the University of Phoenix Stadium tonight.
Much of the protracted pre-game talk has swirled around Auburn's Heisman-winning behemoth of a quarterback, Cam Newton. (Newton is like a strange cross between Herschel Walker and Ben Roethlisberger minus the whole multiple personality/sexual misconduct thing.)  He has morphed from a ballyhooed junior college (after a brief stop at Florida) signing to an unstoppable, dual-threat, dixie legend. On the other side of the ball is senior DT Nick Fairley, a prodigious talent in his own right.  Recently maligned for some of his questionable tactics in the trenches, Fairley is widely considered the best run stopper in the nation.
On the Nike side of the ball, Oregon sophomore RB LaMichael James, who watched as the door was opened for him last season when then starting RB LeGarrette Blount punched a Boise State player in the face, has swooshed onto the scene this season.  Feet like Barry Sanders and breakaway speed like Chris Johnson, James is the embodiment of the Ducks' Green Flash offensive attack. If you're searching for a wild card who might change the game, look no further than Oregon specialists Cliff Harris and Kenjon Barner, who, together create the kind of open field terror that has been haunting Tom Coughlin's dreams for the past month.
The game itself is being billed as one of the toughest tickets in the history of modern sports, what with two proud schools that travel well, even to the point that StubHub had to shut down resales on its website multiple times this past week because of demand.
In a close contest, with slightly more big game experience, a better coach, and excellent special-teamers, the mighty Ducks knock down the goalposts and hoist the "O".  VMS Pick: Oregon 34 Auburn 31