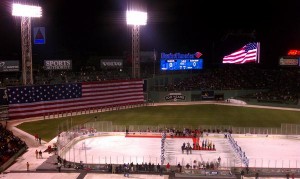 As a New Hampshire native, I love the presidential primary season. For a few fleeting basic cable moments, my home state is relevant. When else do you hear about Dixville Notch? I bypassed college/NBA hoops last night to soak in as much political punditry as possible. How "news" networks like CNN, MSNBC, and Fox managed to fill as much airtime as they did, see Al Sharpton,  is totally beyond human comprehension especially when the results were all but etched in stone immediately after the polls closed.
Now as sports fans, we may or may not care about the New Hampshire Primary or politics in general. But, as a sports fan, wouldn't you like to know what teams/sports the Republican candidates are rooting for? Here's a list of the remaining Republican candidates for president, including Rick Perry, with their favorites teams, listed in order of finish in the 2012 New Hampshire Primary.
Mitt Romey, 39.4% – Other than his intense passion for the Olympic Games, Romney is a founding member of Pink Hat Nation. PHN as you know refers to the cavalcade of carbetbagging non-entities that flocked to Fenway Park during the Red Sox recent decade long renaissance. As an aside, I can't wait to see what the Sons of Sam Horn end up doing now that Bobby Valentine is in the clubhouse, here to put an end to any and all fried chicken consumption.
Ron Paul, 22.8% – Unfortunately for our resident Constitution expert, Paul can't support any team that has received public financing for a new stadium.
Jon, or is it John, Hunstman, 16.8% – Probably the Chicago White Sox or really any team that President Obama supports. (Zing!!!!! How's that for a little inside political baseball?)
Newt Gingrich, 9.4% – The biggest sports fan of the bunch. Being from Georgia, by law Newt has to root for the Dawgs, even though he attended much smaller Emory University in Atlanta. But, if personal relationships are any indication of sports loyalty, I bet he's willing to switch allegiances based on the hott, with a double t, team of the moment.
Rick Santorum, 9.3% – Santorum went to Penn St. which, if you think about, has absolutely nothing to do with the recent Sandusky scandal.
Rick Perry, 0.7% – 0.7%. Really? Are you sure we can still call Perry an actual candidate? Here are the three teams that Rick Perry roots for 1) Dallas Cowboys 2) Texas Longhorns 3) ___________.
view of UNH vs UMaine hockey at Fenway Park courtesy of @julierobenhymer