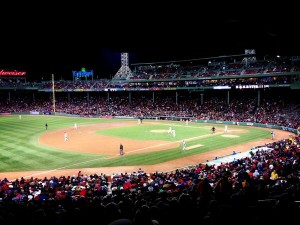 Three weeks into the 2013 MLB season and it has already become apparent that the AL East is up for grabs with both the Boston Red Sox and the Baltimore Orioles having a legitimate chance to win the most competitive division in baseball. These races, as they often do, can come down to position by position matchups and one of the more intriguing battles taking shape is the showdown between two precocious 3Bs Baltimore's Manny Machado and Boston's Will Middlebrooks. So which player has the advantage in this head to head hot corner showdown?
Background
Middlebrooks was drafted out of high school by the Red Sox in the 5th round of the 2007 amateur draft while the Orioles took Machado was the 3rd overall pick in 2010. Both made their celebrated MLB debuts in 2012 with Middlebrooks replacing an increasingly disgruntled Kevin Youkilis and Machado filling in for an average amalgam of Mark Reynolds/Wilson Betemit. Both players have already overcome adversity with Machado making the switch from SS to 3B and Middlebrooks recovering from a wrist injury which derailed his 2012 season.
Plate Presence
Machado (career): 70 G, 288 ABs, 70 hits, 9 HRs, 37 RBI, .259 BA, .295 OBP, .430, SLG
Middlebrooks: 93 G, 339 ABs, 90 hits, 20 HRs, 64 RBI, .265 BA, .301 OPB, .490 SLG
It may be a small sample size but it is still very eerie how their offensive statistics align with Middlebrooks holding a slight power advantage thanks in part to the young 20 year old Machado's sinewy physique. Give the kid a few years, and some extra portions, and he's projected to pack on a much more powerful punch at the plate. Both players strike out too much (but hey, it's 2013, what's new?) which probably explains their subpar OPB. Machado currently resides in the 2-hole and needs to get on base more for players like Adam Jones, Chris Davis and Matt Wieters to be able to drive him home while Middlebrooks hits further down in the lineup meaning the Sox can live with his swing/miss so long as there are an equal number of swing/over the Green Monster.
Web Gems
Machado is a converted shortstop who never played third until reaching the major leagues. It's unclear whether or not the O's intend to keep him at 3B beyond when current shortstop J.J. Hardy's contract is set to expire in 2014. However, in his short time at the hot corner Machado has already developed a penchant for the off balanced barehand grab and throw across the diamond as evidenced this effortless play against the Blue Jays Monday night. Like Machado, Middlebrooks was a SS by trade but switched over to 3B once he began to bulk up in the minor leagues. Their fielding percentages are nearly identical (MM: .975, WM: .959) and both possess the type of above average arm strength necessary to gun down AL East speed burners like the Yankees Brett Gardner and the Blue Jays Jose Reyes (when healthy).
Intangibles
Middlebrooks has recently emerged as an emotional leader in the Boston clubhouse in part for launching the rallying cry "Boston Strong". Machado does not have as strong a social media presence as Middlebrooks and carries himself as a bit of an introvert which is as much a byproduct of his young age as anything else.
What It All Means
It's a strong testament to both players that neither team would straight up swap their current 3B for the other. Both are All Star caliber 3B in the making and could have been on their way to Citi Field this July if it weren't for division rival Evan Longoria. Because of his age (20 to 24) and power potential (and also b/c I'm Orioles fan) I'll give the slight edge to Machado but would also honestly concede to this face off coming down to nothing more than a coin toss.