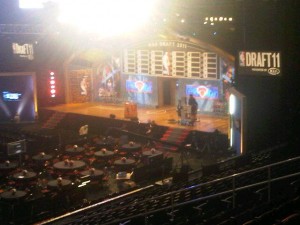 Living in anonymity. That's what repugnant Boston mobster Whitey Bulger had been doing for 17 years until his capture in Santa Monica late last night – special thanks to Jack Nicholson for breathing new life into the search – and that's what the majority of picks in the 2011 NBA Draft will be doing for the foreseeable future. To borrow a line from Major League, "who are these f*%$ing guys?. Are any of these picks destined for stardom or do we have nothing more than a bunch of back of the rotation guys who will struggle to earn consistent minutes in the NBA? We've heard of Kyrie Irving. We know the charming story of Glens Falls, NY native Jimmer Fredette. But Jan Vesely? Tristan Thompson?
In times of column crisis, I typically turn to my wife for inspiration who, like the majority of casual sports fans, couldn't be bothered to tell you the first informative thing about this NBA Draft or any of the players involved. I gave her the names of the presumed top ten picks, without any sort of backstory, and asked her to tell me who she thought these "people" were.
If it's real draft "analysis" you're looking for, head here, here, or possibly here. Otherwise, enjoy this totally unscientific breakdown of the 2011 NBA Draft presented by my wife.
#1: Cleveland Cavaliers – Kyrie Irving, PG Duke
"Don't you mean "Kyle" Irving? I went to grade school with a Kyle Irving. He was a bad seed. It has been my experience that certain names fit certain personalities and I have never met a "Kyle" or "Brandon" or "Zach" that I could trust."
#2: Minnesota Timberwolves – Derrick Williams, PF Arizona
"Isn't there a Derrick Williams playing in the NBA? It feels like there is a Derrick Williams playing in the NBA."
#3: Utah Jazz – Enes Kanter, C Turkey
"Oh, got this one, he's that Republican Congressman who always seems to be lurking behind John Boehner during those creepy announcements from Capital Hill."
#4: Cleveland Cavaliers – Tristan Thompson, PF Texas
"Reminds me of Brad Pitt's character from Legends of the Fall. Do you remember when we were trying to come up with names for our son and I suggested "Tristan"? Such a dreamy name."
#5: Toronto Raptors – Brandon Knight, PG Kentucky
"Wasn't he a member of the New Kids on the Block? Or was it the Backstreet Boys? Either way I'm kinda hoping for a boy band revival. Never did get to see N'Sync live."
#6: Washington Wizards – Jan Vesely, SF Serbia
"Harry Potter's BFF and Hermione's future husband. Speaking of Harry Potter, you better do one of those Plodding through the Previews posts for The Deathly Hallows: Part II."
#7: Sacramento Kings – Kawhi Leonard, SF San Diego St.
"Doesn't sound like anybody I know. I don't even know how to pronounce Kawhi"
#8: Detroit Pistons – Bismack Biyombo, PF Spain
"The King of Zamunda. Maybe I think this because Coming to America has been on all the time recently. Great movie although I feel that it has become a bit underrated recently."
#9: Charlotte Bobcats – Kemba Walker, PG Connecticut
"Point guard of the National Champion UConn Huskies. I'm not completely ignorant to all things sports."
#10: Milwaukee Bucks – Klay Thompson, SG Washington State
"Why is it not "Clay" with a C. I have never understood why parents change the spelling of fairly traditional names like Staci, Rodger, and D'Brickashaw."
——–
So there you have it. Thanks to my wife for being such a great sport and enjoy the 2011 NBA Draft live for Newark, NJ. That's right Newark, NJ. Enjoy!! 
view from the 2011 NBA Draft courtesy of @prucenter