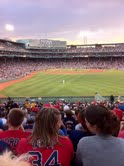 My brother in law went to Fenway Park for a Red Sox/Royals game last Tuesday night and little did he know that his ticket for the evening assured him a spot in a very exclusive, historic club. And no, he was not about to become the first completely sober adult over the last decade to sit in the bleachers. Actually, he sat in section 42, row 37, seat 21 otherwise known as the Ted Williams seat, site of the longest home run ever hit in Fenway Park.
When I think of Ted Williams I think extraordinarily high batting average not a 502 foot prodigious home run. I had all but forgotten that Williams hit 521 career home runs, tying him for 18th place on the all time list alongside Willie McCovey and Frank Thomas. Perhaps my favorite Williams story revolves around his uber-analytical approach to hitting. Not only did he write a book titled "The Science of Hitting", but he would apparently rehearse his swing while playing left field. That must have been some sight to see for the Fenway faithful, the Splendid Splinter taking dry swings in the outfield as the pitcher begins his delivery. I wonder if his routine/singular focus ever led to a crucial fielding error. If so, who on the Red Sox was going to challenge Williams to get his head out of his ass and play better defense? He's Ted Williams. Hall of Famer, arguably the greatest hitter of all time. If anyone gets a free pass for taking their glove off during the game it would have been #9.
The Ted Williams seat in the Fenway Park bleachers is painted bright red to make it stand out amongst the surrounding sea of dark green. Which leads me to the all important question, how many MLB ballparks commemorate long and/or historic home runs? Besides Fenway, we have Camden Yards/Eutaw Street, AT&T Park/McCovey Cove, and PNC Park/Allegheny River. I'm sure there are many more out there but these select few are the most recognizable to me. It would be nice to catalog all of this information so that one day baseball fans can go to Minute Maid Park in Houston and point to the spot of Chris Burke's famous walkoff in the 2005 NLDS.
Finally, one thing my brother in law did say about his night in the Ted Williams seat is that Red Sox fans were constantly asking him to stand up so that they could take a picture of this historic spot. He didn't mind the trouble but would have appreciated a few beers for the effort. Maybe next time.