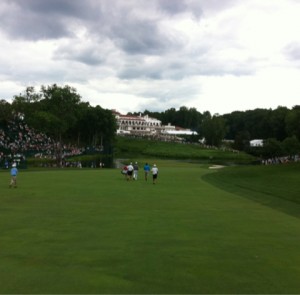 In honor of the 111th US Open to be played this week at Congressional Country Club outside of Washington, D.C., VMS has decided that it is in the best interest of Americans, and golf fans alike, to use the first Ten Amendments of the Constitution as a means to predict our 2011 champion.
Tenth Amendment – power of States and people
Harrison Frazar 200/1: For this one, I had to go with a guy from Texas, that, as far as I know, is still contemplating secession. Or maybe that's just Rick Perry the GOP Governor of Texas/soon to be running for President in 2012. In any case, Frazar has some momentum after his win last week at the FedEx St. Jude Classic.
Ninth Amendment – protection of rights not specifically enumerated in the Constitution
Angel Cabrera 66/1: This Amendment was created for Cabrera, a guy known for smoking his fair share of "fairway butts". Citizens may not have the right to smoke in restaurants anymore but, as far as I know, when the cameras aren't rolling there is nothing preventing "El Pato" from lighting up as he waddles down towards the green.

Eight Amendment – prohibition of excessive bail and cruel and unusual punishment
Dustin Johnson 25/1: What happened to Dustin during his final round of the U.S. Open at Pebble Beach last year, and the PGA Championship at Whistling Straights for that matter, was certainly cruel and unusual. Tough to feel that sorry for a guy who is still young, rich, and famous and bound to win his fair share of majors eventually.
Seventh Amendment – civil trial by jury
Rory Sabbatini 100/1: Can you press civil charges against someone for simply being an all around arse? If so, Sabbatini is the leading candidate on the PGA Tour. Unfortunately for haters like myself, he can play golf and has played well so far this year. I just hope he doesn't start some sort of international incident in our Nation's Capital.
Sixth Amendment – trial by jury and rights of the accused; speedy trial, public trial, right to counsel
Gary Woodland 80/1: Talk about a player in need of some representation. I'm surprised his odds are this low, especially given how long he hits the ball. It's about time his publicity machine went to work. More fans need to know about Gary Woodland and maybe they will after this U.S. Open.

Fifth Amendment – due process, double jeopardy, self-incrimination, eminent domain
Luke Donald 12/1: I'll be pleading the 5th if Donald, arguably the hottest golfer in the world right now, and many peoples trendy choice this week at Congressional, actually ends up winning this tournament. Tough not to root for Donald, partly because of his diminutive stature. He walked right past me at the 2009 U.S. Open at Bethpage and I could have sworn he was no older than 16. Certainly hasn't affected his golf game.

Fourth Amendment – protection from unreasonable search and seizure
Lee Westwood 11/1: To Westwood, after coming so close so many times in the majors, it probably feels like the golfing gods have torn through his personal belongings without a warrant. What has he done to to deserve such heartbreak? Westwood seems like a rather affable guy and, aside from his spat with the PGA Tour , he manages to keep his name out of the headlines. Would like to see him win a major sometime soon.

Third Amendment – protection from quartering of troops
Phil Mickelson 14/1: Seriously, isn't about time to amend the Amendments. Much like the Third Amendment, time is running out for Lefty who at the age of 40, soon to be 41, has his window of opportunity slowly closing. The people's choice will have the D.C. crowd pulling for him big time and if he hits his driver straight, expect an exciting finish on Sunday.

Second Amendment – right to keep and bear arms
Alvaro Quiros 80/1: This one was easy. The way Quiros bludgeons the ball off of the tee, PGA authorities should have him register his driver as a concealed weapon.

First Amendment – freedom of speech, of the press and of religion
Matt Kuchar 25/1 – Oh the irony! Kuchar seems like a really quiet, affable guy, someone who doesn't like to push the envelope,  avoiding controversy at all costs. His patience will be tested but his even demeanor and unassuming nature should help him mange the pressure of a final round, Father's Day Sunday at the U.S. Open.