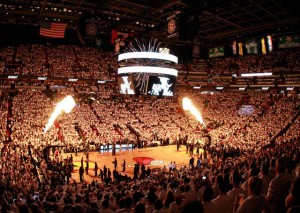 I'm worried that…
Dirk Nowitzki can't carry the Mavericks to a series victory. Last night, the shots Dirk was hitting vs OKC weren't falling and down the stretch, the Jason's, Terry and Kidd, went into early hibernation mode. Now reports out of South Beach have Nowitzki playing with a torn ligament in his finger. Already down a game to the Heat, let the excuses begin!
Scottie Pippen was right.
traveling is no longer part of a NBA officials vernacular. I understand LeBron is a once in a generation athlete but even Jim Thorpe took less than 7 steps when driving to the basket.
I'm not paying enough attention to the Stanley Cup Finals between the Vancouver Canucks and the Boston Bruins. Two hockey hot cities longing for a championship. Unfortunately for the NHL, it's June and the only ice I want to cozy up to is resting comfortably at the bottom of my mojita.
view from American Airlines Arena courtesy of @ngobrolNBA