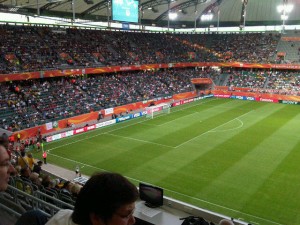 I'm worried that…..
someone over at Bushwood Country Club paid for Carl Spackler to travel down to Windermere, Florida and delicately slice Tiger Woods' left achilles. I can totally empathize with Tiger having to back out of next week's British Open at Royal St. George's due to various leg injuries. I once tried to play a round of golf with a big blister on my pinky toe and ended up having to hop on the back of my playing partners cart for the entirety of the back nine. Not to intimate that a silly little blister can cause anywhere near the same amount of pain as a torn knee ligament, or whatever Tiger is bothered by, but rather to acknowledge that you need two healthy wheels to play any kind of competitive golf, let alone major championship golf.
this isn't the first time Thomas Levet has injured himself jumping into a body of water. I agree wholeheartedly with Colin Montgomerie that this jumping into the water after winning a golf tournament thing will eventually lead to someone impaling themselves on a hidden spike.
some people out there really have the capacity to care about this Roger Clemens perjury trial. Personally, all I care about is whether or not the Rocket is still "frosting his tips" like Evan Longoria.
I should be paying more attention to the Women's World Cup in Germany.
when Albert Pujols returns to the Cardinals lineup this week, a whole month earlier than previously expected, the non displaced fracture in his forearm will manifest itself into a displaced fracture and we will all experience a scene right out of the Naked Gun. Also, if Pujols is pain free and productive I think he should have to produce some sort of birth certificate proving that he is in fact not a Terminator sent back in time by Skynet.
with South Korea now set to host the 2018 Winter Olympics we are going to live through seven embarrassing years of American sportswriters misspelling and mispronouncing "Pyeongchang". Maybe NBC will hire former President George W. Bush to cover the biathlon.
view from Wolfsburg courtesy of @sonalikarnick