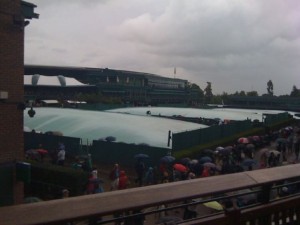 I am worried that….
the grass courts at the All England Lawn Tennis and Croquet Club are going to cause a significant injury. On Day 1 the surface is pristine and lush with nary a weed or rough patch. But by the first weekend, when the wear and tear begins to take its tole, the grass, mostly around the service line, begins to look like the 1st baseline at Wrigley Field. Would it be too difficult, or against tradition, to re-sod the courts midway through the fortnight? I'm only thinking about the players safety and not for any asthetic reason like it kinda looks like crap on tv.
croquet has become an overlooked sport/recreational pastime. Think about it, when was the last time you went over to a friends house, fired up the BBQ, and got yourself ready for a rousing game of croquet? That's my point, this just doesn't happen anymore. The funny thing is I can remember being a kid and playing croquet all the time. It's a fantastic activity. A perfect distraction as the ribs sit on the smoker. In fact, I credit much of my 25 handicap on the golf course to my experience with a wooden mallet on the croquet pitch.
today's rain is just a harbinger of things to come and that it is going to continue raining in London for a week straight forcing players to play multiple matches a day.
Maria Sharapova is really going to marry Sasha Vujacic. Seriously, what does he have that I don't? Take away the wife, kids, mortgage, student loans, etc and we are basically the same person.
Serena Williams is going to experience a massive emotional breakdown. She was all sorts of teary eyed after her 3 set victory in the 1st round yesterday. Her raw emotion was no doubt a byproduct of missing so much time due to injury leading up to Wimbledon. However, if healthy, she clearly remains one of the favorites to win the tournament.
John Isner is going to hit his head on the umpires chair during a changeover. He's 6'9″!! How did he get into tennis and not basketball or baseball. He could have been the next Randy Johnson or perhaps even Mark Hendrickson.
there is not enough room on the grounds of the All England Club for the gaggle of ESPN broadcasters who have descended upon London. Enough is enough already. You have Cliff Drysdale and Darren Cahill calling a match from centre court with Chris Fowler interrupting w/ live look-ins while Patrick McEnroe sits back in the studio alongside Hannah Storm, Mary Joe Fernandez, and Chris Evert who have special sideline reports coming in from Brad Gilbert and Pam Shriver. If I'm Mike Tirico or Scott Van Pelt I feel a little left out. Give me Dick Enberg, John McEnroe, and Mary Carillo. That's it. The rest of you can go and break down the NBA Draft because ESPN doesn't have enough people doing that already.
Novak Djokovic is going to ruin the tournament by beating Roger Federer in the semifinals. All anybody wants to see is another Rafa Nadal/Federer final. Wimbledon is all about pitting the best vs the best. Take for example the rivalry between Bjorn Borg and John McEnroe, the subject of a recent HBO documentary. Their classic showdown in the 1980 Wimbledon final is considered by many to be the "Greatest Tennis Match of All Time".
I was much too young to remember this match but after watching the documentary I was amazed at what a star Bjorn Borg was. I knew he was a great tennis player but had no idea that he had the charisma capable of captivating the entire sports world. He was an absolute rockstar and during the 1980 final McEnroe came so close to preventing Borg's streak of 5 Wimbledon titles in a row. McEnroe would however go on to defeat Borg at Wimbledon a year later in 1981.  But beyond the major titles, what resonates today is the relationship between two tennis warriors that extends well beyond the boundaries of competition. McEnroe/Borg, once bitter rivals, now close friends.
Federer/Nadal have already treated us with a fair share of memorable Wimbledon's – think 2008 – and could meet in the finals again this year. It remains to be seen whether or not these two all time competitors and champions will become great friends, a la Borg/McEnroe and, as tennis fans, we probably don't care if Roger and Rafa take family vacations together. But this much is clear, Nadal/Federer is the most competitive rivalry in sports today. As fans, we should appreciate every opportunity we have to watch these two tennis titans square off against one another because, as Borg/McEnroe proved, the rivalry will be over before we know it.
view from Wimbledon Day 3 courtesy of @mrwayneg