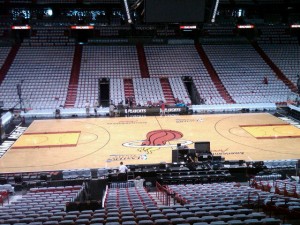 I worry that….
the American Airlines Arena "white out" is leading to partial blindness in my left eye. It borders on seizure inducing. The creepiest part of this concept are the white sheets which they drape over the vacant courtside seats, giving the arena the appearance of being a cheaply designed champagne room in Reno, NV.
I have chest hair like Carlos Boozer. And here I was thinking that it was just a coincidence that I was always picked to be on the "shirts" team.
I run like Joey Crawford. Referee looks like a bald baby Tyrannosaurus Rex.
Derrick Rose is going to end up in a full body cast. He goes HARD to the basket every time he has the basketball – well if you don't count the final two possessions of regulation last night. I'm just waiting for an inadvertent Joel Anthony elbow to end DRose's series prematurely.
there is no correct way to pronounce the name "Joakim" and that I have never pronounced his name the same way twice.
Lebron James and Dwyane Wade are clearly the two best all around basketball players in this series. If this is the case, tough for the Bulls to come back from a 3-1 deficit which leads me to my next worry…
the Heat will go on to win 3 of the next 4 NBA Championships and James and Wade will go down as one of the most successful duos in basketball history right alongside…Kareem/Magic, Jordan/Pippen, and Sidney Deane/Billy Hoyle.
view from American Airlines Arena courtesy of @carmendefalco