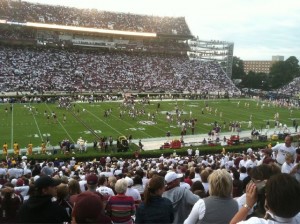 Last night I accidentally stumbled upon the Bill Belichick documentary airing on the NFL Network and came away from the Part I experience totally impressed by the candor and callousness of the famously tight lipped football general who, with this special, has given viewers unprecedented access to the behind the scenes life of an NFL legend. With this special, Belichick has the opportunity to emerge as a likable perhaps even sympathetic figure, a feat which before last night would have been next to impossible.
Here are just a few of my favorite moments:
– Who knew that the underbelly of Giants Stadium included a large raquetball court? At least I think it was a raquetball court. Either that or a fallout shelter. In any case, I could totally picture Parcells ripping 3/4 cigarettes after 10 minutes of modestly paced squash.
– It won't be long before "eff you Mason" officially enters our everyday vernacular. I also appreciated the "why don't we talk after the game" which I could see myself using in all too many social situations.
– Tom Brady thinks Lawrence Maroney has bad hands and you know what, Patriots fans would have to agree. Also, it's clear that Brady's hair today is the product of some sort Wayne Rooney like enhancement.
What I'm Watching this Weekend
College Football: While most eyes tune in to either Ohio State/Miami or Oklahoma/Florida St., I'm most excited to catch a quick glimpse of Andrew Luck against Arizona. But, to be clear, a 10:45pm start from the desert doesn't really fit in well with my normal sleep pattern so I may have to wait for the Sunday morning highlights on this one.
Golf: I might as well check in to watch some of the BMW Championship, especially since I've spent more than my fair share of time on the couch this summer watching lower stakes tournaments like the St. Jude Classic and Scandinavian Masters.
NFL: Have to pick your battles. Week 2 is not the time to haggle with your wife over a day trip to a flea market in Brooklyn. The hope here is that by not complaining I can build up enough good will to make it home in time for the second half of Pats/Chargers. Different story if this were week 15.
MLB: Will the Boston Red Sox allow the Tampa Bay Rays to overtake them in the race for the AL Wild Card? Not if my Baltimore Orioles have anything to say about it. The Sox play 7 of their last 13 regular season games against the Birds which should make most of New England happy seeing as how Baltimore is currently mired in their 14th straight losing season. Hey, look at the bright side, at least Matt Wieters has 20 homeruns.
view from MSU/LSU courtesy of @kirtissbrown