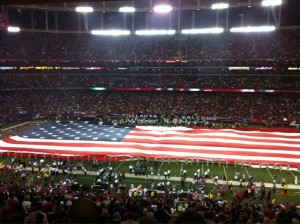 Happy Veterans Day.  To all of our men and women who have served and are serving our country right now, thank you. Your honor and courage are greatly appreciated.
The Atlanta Falcons celebrated Veterans Day with a dramatic, come from behind 26-21 victory over the Baltimore Ravens.  After falling behind 21-20 late in the 4th quarter, Matt Ryan, with little over a minute remaining in the game, put together the signature drive of his professional career.  With :20 seconds left on the clock, Ryan connected with Roddy White for the game winning TD.  White, who was listed as questionable heading into the game, made his fantasy owners extremely happy once again, catching 12 passes for 138 yards and 2 TDs.
Many pundits regarded this game as a preview of Super Bowl XLV. I myself would not be surprised to see these two teams squaring off against one another in Dallas this February.
Share your views.  What did you think of the game?  Were you even aware that there was a Thursday night game this week?  Or, for those of you that do not get the NFL Network, would you just rather we didn't discuss last night at all?