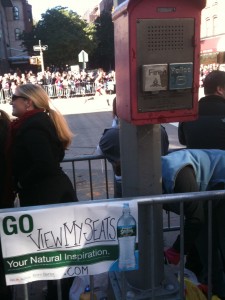 Nice to see viewmyseats was well represented at today's New York City Marathon.  Marathon Day is always a very festive day in the city where the finest conditioned athletes in all the world are cheered on by an eclectic mix of merry, occasionally overserved, New Yorkers.
Plenty of good stories surrounding this years marathon. Former Giants wide receiver Amani Toomer is raising money for charity and rescued Chilean miner Edison Pena is putting his new found celebrity on the line as well.
Every year, the NYC Marathon arrives and I tell myself that next year will be the year that I finally train for and enter a marathon. So, you heard it hear first, next year I'm going to train for and enter the 2011 NYC Marathon.  Who's coming with me?  Share your views.