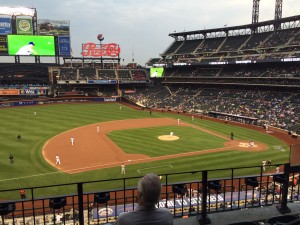 Citi Field on a Tuesday evening in early May is a friendly place to watch a baseball game. Even the parking lot attendant who directed us down the dark, dingy lair beneath the Whitestone Expressway couldn't have been more enthusiastic about the season to date. And who can blame him? The Mets are playing great. Attendance is up. And on this night fan/internet favorite Bartolo Colon was taking the mound for the home town team.
A few other highlights from our trip to Queens:
1 – Citi Field still has that new car smell which might have had something to do with the Mazda 5 they were raffling off by the Shake Shack. In all seriousness, the concourses are spacious and the bathrooms clean, the latter somewhat surprising given that it was Cinco De Mayo.
2 – The food is as good as advertised. We went with sandwiches from Pressed by Josh Capon which if you're going to spend $12 on a grilled cheese you might as well make sure it comes w/ pepper crusted bacon.
3 – There really isn't a bad seat in the house and tickets are easy to come by (we bought ours day of the game for $15/each under face value) unless Matt Harvey is pitching.
4 – If you haven't watched Bartolo Colon pitch in person I can't recommend it enough. He works fast (Our game lasted 2:15. Talk about keeping the kids interested!!!) and there's always the chance that he'll do something humorous in the batter's box.
Overall, I give our latest experience to Citi Field a 4.5 out of 5 boxes of Cracker Jack's with the only demerits coming from the poorly lit parking lot that made us feel like we were entering nearby Rikers Island.
Do you like my seats?