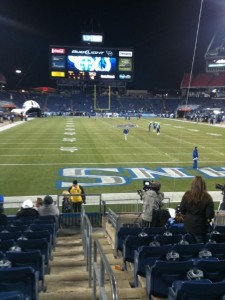 Indianapolis (-3) over TENNESSEE: I thought I would enjoy the recent Peyton Manning fall from grace much more than I actually am.
JACKSONVILLE (-4) over Oakland: This is your classic "west coast team travels across the country for a 1pm starts and gets blown out by two touchdowns" game.  Either that or the Raiders will win two in a row on the road. What the heck do I know.
Cincinnati (+8.5) over PITTSBURGH: Is it just me or do these two teams play each other at least 4 times a season?  If true, how is this allowed?
New England (-3) over CHICAGO: The more people that call this a "trap game" for the Patriots the more unlikely an outcome it becomes. Right?
BUFFALO (-1) over Cleveland: If the Bills were not in the AFC East I think they could become my second favorite team in the NFL. Hard nosed city, Ivy League QB, and the best throwback uniforms in the league.
NY Giants (-2.5) over MINNESOTA: Sounds like the Twin Cities have begun talking themselves into the Tarvaris Jackson era again….for the third time.
Green Bay Packers (-6.5) over DETROIT: Ndamukong Suh is a baaaaaaaaaaad man.
Atlanta (-7) over CAROLINA: Why are the Falcons only favored by 7 points? Is Bobby Hebert quarterbacking for Atlanta?
WASHINGTON (+2) over Tampa Bay:  Albert Haynesworth. Nobody feels sorry for you. Nobody.
ST. LOUIS (+9) over New Orleans: For the record, I was in on the Rams winning the NFC West way before it became popular.
Seattle (+5.5) over SAN FRANCISCO:  I would really prefer if neither of these teams made the playoffs.
NY JETS (-5.5) over Miami:  This game was a lot more fun to watch in the late '80s when a Dan Marino led Dolphins team would beat a Ken O'Brien led Jets team by a final score of 64-61.
Denver (-5.5) over ARIZONA: Interim head coaches just don't lose their first game.
SAN DIEGO (-7) over Kansas City: Poor Matt Cassel. Anytime I have a sharp pain in my stomach I always assume an appendectomy is forthcoming.
Philadelphia (-3.5) over DALLAS: Who's been more valuable to their team this season: Michael Vick or Tom Brady?
Baltimore (-3) over HOUSTON: First weekend of my fantasy football playoffs.  Arian Foster needs to have himself a big week for the "Maple Syrup Conglomerate" to advance into round 2.
Last Week: 8-8