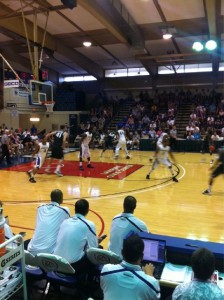 Love the Maui Invitational.  Great teams. Tons of games.  Tiny gymnasium.  When the tournament starts it means Thanksgiving cannot be far behind.
On to the NFL Week 12 picks.
New England (-6.5) over Detroit
The Lions should give us a competitive game this year.  I'm one who believes Detroit should always remain on Thanksgiving.
New Orleans (-3.5) over DALLAS
No one is talking about the champs.  Jason Garrett's luck is about to run out.
Cincinnati (+9) over NY JETS
Jets win games late and by less than 7 points.
Minnesota (+1) over WASHINGTON
Can't blame the coach if you lose this week Vikings.
Pittsburgh (-6.5) over BUFFALO
I sort of wish Richard Seymour hit Ben Roethlisberger a little harder last Sunday.
Tennessee (+6.5) over HOUSTON
Titans tend to overcome adversity.  Rusty Smith sounds like the name of fictional oil baron not the starting QB of an NFL team.
Jacksonville (+7) over NY GIANTS
That was pretty funny watching Eli Manning create his own fumble last week.
Carolina (+10) over CLEVELAND
No Colt McCoy for the Browns means I have no faith in Jack Delhomme.
Tampa Bay (+7.5) over BALTIMORE
Like the Ravens to win the game but it's getting harder and harder not to root for the Bucs.
Philadelphia (-3.5) over CHICAGO
I still don't think the Bears are as good as their 7-3 record.  Eagles poised to become top seed in NFC.
Green Bay (+2) over ATLANTA
One of these days I am going to pick the Falcons to win a big game.
SEATTLE (+1.5) over Kansas City
Seahawks are good at home as long as their starting QB is not Charlie Whitehurst.
DENVER (-4) over St. Louis
Sometimes I think the Broncos should go back to their old uniforms.
INDIANAPOLIS (-3) over San Diego
I'm not ready to hop aboard the Charger express quite yet.
SAN FRANCISCO (-1) over Arizona
We should all act like this game is not actually happening.
Last Week: 9-7