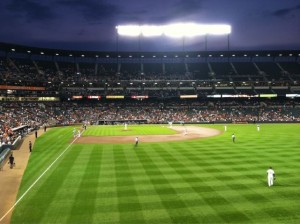 Detroit (+1) over DALLAS: Yummy!!!! You can't have these two teams play eachother and not think about the glorious holiday of over eating holidays that is Thanksgiving. And for the first time in 20 years, the 12:30pm kickoff in Detroit between the Lions and Green Bay Packers means much much more than the Cowboys game vs the Dolphins.
New Orleans (-7) over JACKSONVILLE: Speaking of the Bayou, I watched LSU beat up West Virginia last Saturday night and I was flabergasted by the amount of NFL talent on the field for the Tigers. Their entire defense is comprised of athletes who will soon play on Sundays and if their QB remains even semi-competent this season, I can't see how they don't end up making it to the BCS championship game. Also, the WVU coach looks like a frothier version of Clint Howard.
San Francisco (+7.5) over PHILADELPHIA: I love how Jim Harbaugh kept the 49ers in Youngstown, Ohio this week instead of flying them back to the west coast after their game in Cincinnati before having to turn right back around to play the Eagles in Philadelphia this weekend. I wonder if the team took a trip to the cinema to watch Lion King 3-D?
Washington (PK) over ST. LOUIS: The Rams looked terrible last week and the Redskins didn't look much better. Count me as one of the many baseball fans who cannot believe the St. Louis Cardinals made it back to the postseason. I thought the biggest story out of Busch Stadium this season was going to be whether or not Albert Pujols resigns with the club this winter.
Tennessee (-1) over CLEVELAND: Wouldn't it be just Cleveland's luck if pieces of that space junk had landed somewhere near their city? The whole time NASA was talking about how they weren't quite sure where and when the satellite debris was going to strike I kept hoping that it would end up somewhere near Peter Angelos backyard in Westminster, MD.
CINCINNATI (+3) over Buffalo: Upset Special!!! Upset Special!!! Classic letdown game for the Bills of Buffalo who better hurry up and build that new stadium before retreating to Toronto like the British during the War of 1812. Too soon? Maybe, but just remember that a few months back I predicted this Rust Belt Revival.
Minnesota (-1.5) over KANSAS CITY: I'm not so sure this game will be carried in either the Minneapolis/St. Paul or Kansas City local markets. The Vikings better keep giving the ball to Adrian Peterson or else they're going to have a pissed off $100 million man on their hands.
Carolina (+6.5) over CHICAGO: Are Jay Cutler and Kristen Cavallari really getting back together and if so, can we expect the Bears QB to be present when KC hoists the Dancing With The Stars trophy this November?
Pittsburgh (+4) over HOUSTON: Maybe the Steelers are getting old after all. Maybe this is Houston's year. Maybe Chris Christie is going to run for President.
Atlanta (-4.5) over SEATTLE: Time for this Falcons team to get serious. If they lose to the Seahawks you can pretty much count them out in the NFC South. And for the Atlanta Braves, it's going to be a long offseason for Fredi Gonzalez and the rest of the organization. Good news, they're young and all their top prospects are pitchers.
NY Giants (-1.5) over ARIZONA: Starting to feel like this Giants team could have a little "nobody believed in us" in them. And since we're talking about New York, I went into the city last night to watch Pearl Jam Twenty and came away with three main observations: 1) How different the world would have been if "Daughter" were actually titled "Brother". 2) Eddie Vedder and Kurt Cobain…maybe not the best of friends. 3) Neil Young is so close to the band that Vedder refers to him as Uncle Neil.
Miami (+7) over San Diego: San Diego is going to win or lose every game this season by less than 7 points. It's a mortal lock, as sure a thing as Whitney being cancelled before the holidays.
Denver (+13) over Green Bay: This weekend, the biggest game in Wisconsin takes place in Madison not Green Bay as the Badgers open the Big Ten season against conference newbies Nebraska. I had some early designs on attending this game in person but soon realized that the entire Midwest would be converging on State Street like an over-served freshman looking for a bratwurst.
OAKLAND (+4.5) over New England: For the Boston Red Sox, after last night put the final nail in the worst September collapse in MLB history, expect some major overreacting and paradigm shifting on Yawkey Way this offseason. Terry Francona shouldn't be fired but the Sox need to hire some better personal trainers, really anyone to keep their pitching staff in better shape.
BALTIMORE (-3.5) over NY Jets: The Tampa Bay Rays need to send Chris Davis, Nolan Reimold, and Robert Andino a few nice big fruit baskets after what they did to the Red Sox last night. My only wish is that the Orioles were playing for a spot in the playoffs themselves and not set to finish the season 28 games out of 1st place.
Indianapolis (+10) over TAMPA BAY: The big question Monday night, will Josh Freeman vs Curtis Painter be able to outdraw repeats of NCIS airing on USA?
Last week 9-7 (overall 25-23)
view from Camden Yards courtesy of @chitwoodhobbs