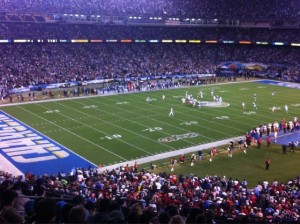 Sorry I'm a bit late with my weekly NFL picks.  I went curling (insert joke here) for the first time last night and the experience did not disappoint.  I now understand why the "sport" is the official obsession of Canadians, Scandinavians, and upstate New Yorkers.  I have a friend who went to a high school in upstate New York where curling was a gym class requirement. My fondest memories of gym class include winning the 9th grade badminton tournament and "trust falls" on the outdoor adventure course. Ahhhh, the silly things we remember
And now, on to the Week 15 picks.
SAN DIEGO (-8.5) over San Francisco: You'll have to believe me when I tell you that I made this pick well before Vincent Jackson ate the entire 49er secondary for dinner.
Kansas City (PK) over ST. LOUIS: This pick rests totally on the health of Matt Cassel.  If Brodie Croyle is the quarterback for the Chiefs on Sunday then I will graciously accept defeat.
Houston (+1.5) over TENNESSEE: I too subscribe to the whole "Titans have quit on Jeff Fisher" theory.
Jacksonville (+5) over Indianapolis:  This just has the feel of a 3 point game to me.
CAROLINA (-2.5) over Arizona: Remember when these two teams faced one another in the 2008 NFC Divisional Playoffs.  That was a loooooooong time ago.
Cleveland (+1.5) over CINCINNATI: People incorrectly assume that because I love sports that I will watch anything pertaining to sports on TV.  So, for the last time, no I do not watch the T.Ocho Show on Versus.
BUFFALO (+5.5) over Miami: I was kinda thinking Chad Henne was going to be a better NFL quarterback.  Dolphins fans were probably hoping for the same thing.
Philadelphia (+2.5) over NY GIANTS: Eli Manning seems like a really nice guy but boy, does he know how to give a really boring interview.
DALLAS (-6) over Washington: And now comes word that Donovan McNabb will not be starting for the Redskins this weekend.  Don't expect the team to rally around Rex Grossman.
TAMPA BAY (-5.5) over Detroit: Bold prediction. The Lions will win the NFC North in 2011.
New Orleans (+1.5) over BALTIMORE: Is it still possible that the Super Bowl champs remain under the radar? A win against the Ravens ought to change that.
SEATTLE (+6) over Atlanta: Why do I continue to over value the Seahawks at home?
NY Jets (+6) over PITTSBURGH: No Polamalu for the Steelers. No Sal Alosi for the Jets.  I call it an even wash.
Denver (+7) over OAKLAND: Let's take an informal poll. Best uniforms in the NFL? 1) Raiders 2) Colts 3) Bears 32) Jaguars
NEW ENGLAND (-12) over Green Bay: This would have been a 6.5 point spread if Aaron Rodgers were not concussed.
Chicago (-7) over MINNESOTA: Like the fact that this game is being played outdoors at the University of Minnesota.  Love the fact that because the game is being played on a college campus they can't serve booze. Total points 33.
Last week: 8-8
Share your views.