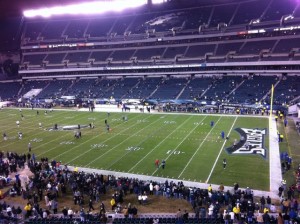 Houston (+8) over PHILADELPHIA: The audio of Andre Johnson beating up Cortland Finnegan makes him even more likable.
MINNESOTA (-5.5) over Buffalo: Potentially no Adrian Peterson for the Vikings.  I wonder if God will find some time for Stevie Johnson this Sunday.
MIAMI (-4.5) over Cleveland: I was all set to blame Jake Delhomme for costing me my lock pick last week. That was until John Kasay bailed him out with a fortuitous last second wide right.
TENNESSEE (-1.5) over Jacksonville: Ugghhhhh.
Denver (+8.5) over KANSAS CITY: Why, why do I continue to go with the Broncos to cover on the road?
NY GIANTS (-7) over Washington: I sense the Giants are headed on a mini run to end the regular season.
Chicago (-4.5) over DETROIT: I feel like this line should be higher. Plus, Bears defense has totally won me over.
GREEN BAY (-9) over San Francisco: Aaron Rodgers could throw for over 450 yards this game.
New Orleans (-6.5) over CINCINNATI: Again, why aren't we talking about the Saints a little bit more?
TAMPA BAY (+3) over Atlanta: NFC South is headed down to the wire.
Oakland (+13) over SAN DIEGO: Seems like a lot of points, even for a matchup between two teams headed in totally opposite directions.
Carolina (+6) over SEATTLE: Yikes! Something remarkable would have to happen for these highlights to ever make it on the air.
Dallas ( +5.5) over INDIANAPOLIS: Before the season began, this looked like a potential Super Bowl preview.  As it stands today, both teams could miss the playoffs entirely.
St. Louis (-3.5) over ARIZONA: We were all laughing with you Derek Anderson.
BALTIMORE (-3) over Pittsburgh: Walking boot or not, Ben Roethlisberger is going to get smacked around. Ravens are the better team on both sides of the ball.
NEW ENGLAND (-3.5) over NY Jets (52 total points): Game of the year…this week. For extra mojo the Pats will honor Tedy Bruschi during a halftime ceremony. As a Pats fan, I feel really good about this game.
Last week: 6-10