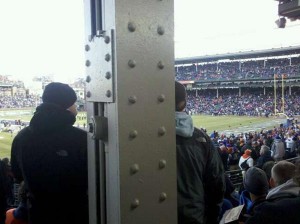 I sure hope they didn't pay face value for these seats! Judging from this vantage point, it's fair to say that Wrigley Field was not built to house major college football games.  Today's contest between Northwestern and Illinois was the first college football game played in the Friendly Confines since 1938.  Even though stadium seating wasn't perfect, and the field itself had only one operable endzone, I still would have enjoyed being a part of the atmosphere in Wrigley today.
On to the NFL Week 11 picks!
Oakland (+8.5) over PITTSBURGH
The Raiders and their fans relish the "no respect" role.  Take the points.
Houston (+6.5) over JETS
This pick flies in the face of the "never trust a visiting quarterback with a bursa sac problem" gambling rule.  Still, Texans can put up points and Jets haven't exactly been blowing teams out.
BALTIMORE (-10.5) over Carolina
Raise your hand if you thought Brian St. Pierre was still in the league. That's what I thought.
TENNESSEE (-5.5) over Washington
This is an anti Redskins pick more than a pro Titan pick.  Still, Tennessee is playing for a division lead and I have no idea what Washington is playing for.
Detroit (+6.5) over DALLAS
This line would have been 2.5 if not for the Cowboys blowout victory over the Giants.  Look for Dallas to go right back to their underachieving ways this week.
Green Bay (-2.5) over MINNESOTA
Forget about Brett Favre, the Viking defense has been an utter disappoint this year.  Aaron Rodgers will have his vengeance!
Buffalo (+5.5) over CINCINNATI
The Bills play hard, the Bengals stink.  3 point game one way or another.
JACKSONVILLE (-1.5) over Cleveland
The Browns had a nice little run these past three weeks vs the Saints, Pats, and Jets.  Look for a slight letdown on the road against the playoff contending(?) Jags.
KANSAS CITY (-7.5) over Arizona
Todd Haley is childlike rage personified.
NEW ORLEANS (-11.5) over Seattle
When healthy, Reggie Bush makes a huge difference.  Also, don't really trust the Seahawks on the road.
RAMS (+2.5) over Atlanta
Upset special of the week.
TAMPA BAY (+2.5) over San Francisco
Why does Vegas continue to give the 49ers so much respect?
NEW ENGLAND (-3.5) over Indianapolis
Tom Brady willed the young Patriots to victory last week in Pittsburgh.  Look for the same to be true again this Sunday in this latest installment of the decades best rivalry.
PHILADELPHIA (-2.5) over NY Giants
Michael Vick is scary good right now, although for some reason it seems that Eli Manning always plays better on the road than at home.
Denver (+9.5) over SAN DIEGO: 66 total points
What's with all this Philip Rivers for MVP talk?
Share your views.