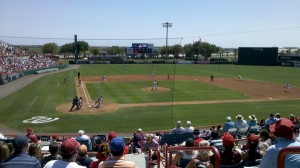 2011 St. Louis Cardinals
NFL Equivalent – Green Bay Packers: No, the St. Louis Cardinals are not VMS pick to win the 2011 World Series. However, the Redbirds do share many characteristics with the Packers, their brethren from the Midwest. Much like GB, the Cardinals boast some of the friendliest, most loyal, and knowledgeable fans in all professional sports.  Cardinals/Packers fans do not carry themselves with the same hardened, acerbic grittiness as say Red Sox or Yankess fans but their passion rivals any other fan base in the country. Both franchises have a history of winning as well.
Google Search: Two stories this offseason: 1) Albert Pujols' contract talks 2) Adam Wainwright's arm injury. The Pujols contract situation – he enters 2011 in the final year of his current deal with the Cardinals – threatens to dominate the back pages of most St. Louis newspapers. It's been said that he is looking for ARod type money, somewhere in the neighborhood of $30 million a season, which clearly the mid market Cardinals cannot afford to pay him. So, if he's really looking for that sort of cash, he will have to look to the Angels, Red Sox, Yankees, or (gulp) Cubs. Here's hoping Albert chooses to stay in St. Louis, it's much better for baseball that way. Wainwright, along with Chris Carpenter – from New Hampshire – have been the workhorses of a very stable Cardinal starting rotation. With Wainwright now shelved for the season after Tommy John surgery, who does St. Louis turn to to provide them with those same innings/quality starts?
Famous Movie Quote: Look, we're gonna spend half the night driving around the Hills looking for this one party and you're going to say it sucks and we're all gonna leave and then we're gonna go look for this other party. But all the parties and all the bars, they all suck. I spend half the night talking to some girl who's looking around the room to see if there's somebody else who's more important she should be talking to. And it's like I'm supposed to be all happy 'cause she's wearing a backpack, you know? And half of them are just nasty skanks who wouldn't be nothing except they're surrounded by a bunch of drunken horny assholes. And I'm gonna tell you something T. Are you listening? – Jon Favreau from Swingers
This quote is for Albert Pujols who while searching for that $30 million a year will no doubt be wined and dined by all types of suitors, some attractive – Cubs – some downright nasty – Royals. In the end, will he come to his senses and realize that the chase is never as satisfying as the one you already love, who also happens to love you? The 2011 Cardinals will have another good year but the Pujols contract talks will be the loudest topic in St. Louis since the Blues signed Wayne Gretzky. 2011 prediction: 85-77, 2nd place NL Central